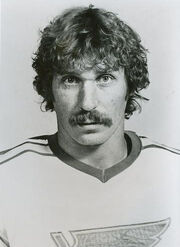 Ralph L. Klassen (born September 15, 1955 in Muenster, Saskatchewan) is a retired professional ice hockey player who played 497 games in the National Hockey League. He played for the California Golden Seals, Cleveland Barons, Colorado Rockies, and St. Louis Blues.
Klassen was a clever playmaker for the WHL's Saskatoon Blades from 1970 to 1975. He was regularly among the league leaders in assists while finding the net himself on occasion. In 1974-75 he was a member of the Western Canada all-star squad that represented Canada at the 1975 World Junior Championships. Later that year he was the top scorer in the post-season as the Blades narrowly lost to the New Westminster Bruins in the league championship series.
Coming off an exemplary junior career, Klassen was the third player selected in the 1975 NHL Amateur Draft when the California Golden Seals called his name. He played 71 games as a rookie during the last year in which the team was based in California. Klassen came east when the franchise relocated to Cleveland, Ohio. During this period he often formed an effective line with Bob Girard and Gary Sabourin. He scored 32 points for the Barons in 1976-77 and was a member of the Canadian team that ended the country's dispute with the IIHF by playing at the 1977 World Championship.
Klassen started the 1977-78 season in Cleveland but was eventually traded to the Colorado Rockies. He played a solid defensive role for Colorado in 1978-79 then was claimed briefly by the Hartford Whalers in the 1979 NHL Expansion Draft. The next day he was traded to the New York Islanders then shipped to the St. Louis Blues a few minutes later.
The Blues were the first decent team on which Klassen played. He skated parts of five seasons with St. Louis before retiring in 1984 with 497 NHL regular season games under his belt. He scored 52 goals and 93 assists.
External links
Edit
Community content is available under
CC-BY-SA
unless otherwise noted.