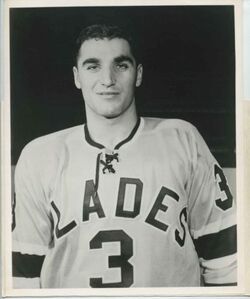 Ralph Keller (born February 6, 1936 in Wilkie, Saskatchewan) is a retired Canadian professional ice hockey player who played three games in the National Hockey League for the New York Rangers in 1962-63, scoring one goal.
He played junior hockey for the Prince Albert Mintos from 1952 to 1955. Most of his career was spent in the Western Hockey League and the American Hockey League.
Keller played for the Hershey Bears from 1963 until his retirement in 1974.
He then coached the Fort Wayne Komets from 1974 to 1977.