"Paladins" is the name of the sports teams of the Royal Military College. It is Canada's military academy and is located in Kingston, Ontario. They are members of Ontario University Athletics (OUA) and U Sports (formerly known as CIS). Until 1997 its teams were called the "Redmen".
History
The RMC Redmen were one of the first collegiate hockey teams in Canada. Wikia links have them playing Ontario senior hockey as early as 1890-91. In Ontario provincial play, RMC won the provincial intermediate title in 1931, which qualified them to advance to the 1930-31 Eastern Canada Allan Cup Playoffs.
The intermediate intercollegiate level was unique. The schools with senior teams (e.g. University of Toronto, Queen's University, University of Montreal, and McGill University) would often have both a senior team and an intermediate team. Schools with one side would sometimes play senior and sometimes play intermediate. Frequent opponents at intermediate level were McMaster University, University of Western Ontario, University of Laval, Loyola College, Ontario Agricultural College, and Osgoode Hall. RMC won nine titles at the intermediate intercollegiate level.
As university teams gravitated towards university leagues, RMC entered the Ottawa-St. Lawrence Conference (OSLC) from its inception in 1949-50 until the conference ended in 1970-71. In 1971-72 they joined the Quebec Universities Athletic Association (QUAA). That season the Ontario and Quebec conferences were re-organized along provincial lines. However, RMC played two seasons in the QUAA before they switched to the Ontario Universities Athletic Association (OUAA) for the 1973-74 season. They remained there through 1977-78 when they folded. The program was revived in 1982-83 and they re-joined the OUAA, which changed names to OUA in 1997-98.
In 1995, the former French-language equivalent called College Militaire Royale (CMR, which operated its own teams) and Royal Roads Military College (RRMC) were merged into the RMC. In 1997 the amalgamated college changed its team name from "Redmen" to "Paladins". In the fall of 2007, the federal government reopened the College Militaire Royale as the military college at Saint-Jean. The military college was slated for closure in 1995, but on 9 July 1994, the federal and provincial governments agreed to maintain it as a non-degree-granting college.
West Point Weekend
The RMC-USMA series originated when the commandant of RMC, Sir Archibald McDonnell and the superintendent of the United States Military Academy (West Point), Brigadier General Douglas MacArthur, suggested a game of hockey between the two schools in 1921. After two years of exchanging ideas the first game was played on February 23, 1923 at West Point.
The Redmen won that first game 3–0 and a New York paper stated "Army was beaten at hockey today by Royal Military College of Kingston, Ontario. The Canadian cadets excelled the Army men all the way, displaying the best all-around form seen here in years. Hamilton and the Carr-Harris's were the outstanding stars of the Canadian team. This game was one of the cleanest-fought contests staged here this winter and was marked by a fine display of sportsmanship on both sides." In commemoration of the game, RMC donated the "Challenge Trophy".
In 1924, the series moved to Kingston thus beginning the tradition of rotating venues. This was Army's first away game and up until 1941 the West Point Game was the only time that Army played away from the Academy.
From 1923–1935 RMC ran up a record of 14–0–1. The only blemish being a 4–4 tie in 1935. 1939 saw Army win its first game 3–1. As a result of WWII only one game was played over the next ten years, a 3–1 Army win in 1942.
In the 1950s and 1960s, Army won 15 of 20 games bringing the series close with RMC holding a 21–18–1 advantage. Throughout the 1970s and 1980s, the teams played fairly closely. In 1986, the record stood at 26–25–4 in favour of RMC.
Army dominated over the next 15 years, going unbeaten from 1988–1999. The 2003 game featured a 4–0 Army win at West Point. RMC was shut-out for the first time since 1996 while being short-handed 12 times during the game.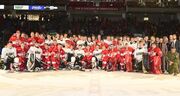 The 2006 game was a 3–3 tie in front of 3100 fans in Kingston.
The 2007 edition of the rivalry was to take place on Saturday 10 Feb, at Tate Arena in West Point, New York, but was cancelled due to regular season scheduling conflicts. For 2008, the teams did not play a competitive game but instead the Paladins travelled to New York to spend 3 days practicing, playing and socializing with the West Point cadets.
The game was not played from 2007-2010, nor in 2012, but has been held annually since. On January 18, 2020, RMC beat West Point 3-2 in overtime, their first victory since 2002.
As of 2020, Army leads the series 48–30–7.
Season-by-Season Records
List of OHA/IIS Seasons 1890-91 to 1938-39
OHA Senior/Intermediate: 1890-91 to 1901-02
Intermediate Intercollegiate (IIS): 1902-03 to 1925-26
Intermediate OHA/IIS: 1926-27 to 1938-39
Sources:
University Tables: 1950-51 to present
Click on the links in the "Year/Comp." column to go to the page for that season.
OSLC 1950-51 to 1970-71
Note: All seasons in a one division format.
QUAA 1971-72 to 1972-73
| Year/Comp. | GP | W | L | T | GF | GA | Pts | Placing |
| --- | --- | --- | --- | --- | --- | --- | --- | --- |
| 1972 QUAA | 21 | 4 | 15 | 2 | ? | ? | 10 | 7th |
| 1973 QUAA | 24 | 9 | 12 | 3 | ? | ? | 21 | 6th |
Note: All seasons in a one division format.
OUAA/OUA years with ties 1973-74 to 2002-03
Note: RMC did not play conference games from the 1978-79 through 1981-82 seasons.
OUA years with ties and OT losses 2003-04 to 2006-07
OUA years without ties 2007-08 to present
Notes:
1971-72 started two division format: East and West.
1975-76 started three division format: East, Central, and West.
1979-80 started one division format.
1987-88 QUAA teams joined the OUAA and it returned to a three division format.
1989-90 returned to the two division format.
1993-94 started a four division format: Far East, Mid East, Mid West, and Far West.
1997-98 OUAA became OUA.
2009-10 returned to the two division format.
C means Central division.
E means East division,
ME means Mid East division.
W means West division.
Commemorations
University Cups
none
Championships
Intermediate Intercollegiate: 1903, 1904, 1912, 1913, 1914, 1920, 1926, 1927, 1935
Provincial Intermediate: 1931
Pictures
Alternate Logos
Links
West Division
East Division
Also see