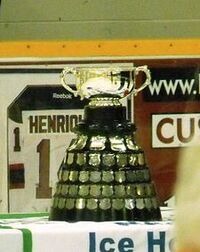 The Queen's Cup is a trophy now awarded annually to the champion in men's hockey of the Ontario University Athletics conference, of U Sports, formerly Canadian Interuniversity Sport (CIS).
History
[
]
The Queen's Cup has been awarded since 1903 to the champion of various conferences operating in Ontario and/or Quebec. First, it was awarded to the winner of the Canadian Intercollegiate Athletic Union (CIAU Central) and its successor, the Quebec-Ontario Athletic Association (QOAA) until it folded in 1972. Once the various conferences in Ontario and Quebec were reorganized along provincial lines in 1972, the Queen's Cup went to the winner of the Ontario Universities Athletic Association (OUAA), which later changed its name to Ontario University Athletics (OUA).
It is the second-oldest ice hockey trophy still being awarded, after the Stanley Cup.
For the 1902–03 season, McGill University, Queen's University, and the University of Toronto founded the CIAU. The Queen's Cup, emblematic of the CIAU championship was donated by Queen's University. It was not presented during the war years of 1915-16, 1916–17, 1917–18, 1918–19, 1940–41, 1941–42, 1942–43, 1943-44. 1944-45.
The first winner other than the founders was the Université de Montréal in 1949. By the 1960s, other universities, including Ontario Agricultural College (Guelph), McMaster University, University of Waterloo and the University of Western Ontario were granted membership and became eligible to win the Cup. Other universities have since joined the CIAU, now known as the OUA conference.
The original Cup was retired in 2000 to the Hall of Fame.
2011 marked the 100th time the Cup was awarded the winner was the McGill University Redmen.
Winners
[
]
Playoff era
[
]
Three Division format
[
]
Bolded are Queen's Cup champions, italicized are runner-up, score is championship game only.
East vs. West format
[
]
Bolded are Queen's Cup champions.
Wikipedia footnotes: McGill University, OUA[4][5]
Sources:
Also see
[
]
National links:
Ontario-Quebec links:
Participating Universities

[

]
West Division

[

]
East Division

[

]

International links: