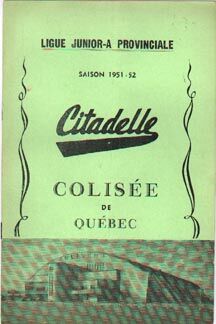 History
The Quebec Citadelles were a junior, then a minor professional team.
The junior team started play in the Junior Amateur Hockey Association in 1947-48. and then continued on under its new name the Quebec Junior Hockey League until 1953.
The Citadelles won the league title in 1950-51.
In 1952-53 the Quebec Amateur Hockey Association (QAHA) was suspended by the Canadian Amateur Hockey Association (CAHA). In the league final, the Citadelles forfeited the series over a dispute about their coach and his tactics, The Citadelles then jumped to the CAHA Memorial Cup playoffs, where they lost in the 1952-53 Eastern Canada Memorial Cup Playoffs.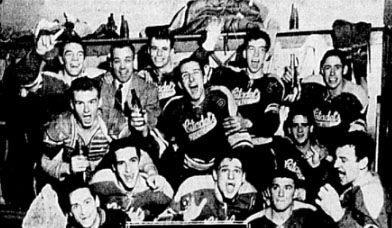 Partly as a result of this dispute, the Citadelles jumped to the Ontario Hockey Association in 1953-54 but they folded in December and amalgamated with the Quebec Frontenacs.
The team was resurrected in 1960 in the Provincial Junior League. They made it to the Memorial Cup playoffs in 1962 because of their first place finiah in the league. They lost the league playoff final later that season.
In 1964-65 the team's name was changed to the Quebec Junior Aces.

An American Hockey League team was started in 1999. It was a Montreal Canadiens farm team, This team lasted for only three seasons before the Canadiens moved the team to Hamilton.

There was also a junior B team under this name. They won the Quebec titles in 1949-50, 1950-51, and 1951-52.
Season-by-season results
Season
Games
Won
Lost
Tied
Points
Goals
for
Goals
against
Standing
Playoffs
1947-48
31
19
11
1
39
143
93
2nd South
Lost Semi Final
1948-49
47
25
20
2
52
-
-
2nd South
Lost Final
Season
Games
Won
Lost
Tied
Points
Goals
for
Goals
against
Standing
Playoffs
1949-50
36
23
12
1
47
-
3rd
Lost Final
1950-51
46
33
13
0
66
265
136
1st
Won Final, Lost East Final
1951-52
50
30
20
0
60
240
162
2nd
Lost Final
1952-53
48
30
15
3
63
187
152
2nd
Lost Final, Lost East Final
Season
Games
Won
Lost
Tied
Points
Goals
for
Goals
against
Standing
Playoffs
1953-54
26
8
17
1
17
69
107
-
Disbanded Dec. 15,1953
Season
Games
Won
Lost
Tied
Points
Goals
for
Goals
against
Standing
Playoffs
1960-61
38
22
16
0
44
173
153
3rd
Lost Semi Final
1961-62
50
43
6
1
87
291
143
1st
Lost Final, Won Quebec Final, Lost East Final
1962-63
49
40
9
0
80
352
192
1st
Lost Final
1963-64
36
16
19
1
33
-
-
2nd
Lost Semi Final
Season
Games
Won
Lost
Tied
OTL
Points
Goals
for
Goals
against
Playoffs
1999–00
80
37
34
5
4
83
227
238
1st, Atlantic
Lost 1st Round
2000–01
80
41
32
3
4
89
264
252
2nd, Canadian
Lost 2nd Round
2001–02
80
35
27
15
3
88
257
254
1st, Canadian
Lost 1st Round