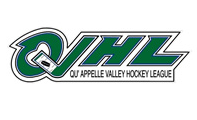 The Qu'Appelle Valley Senior Hockey League is based in Saskatchewan and started in 1960-61.
Early History
The league commenced play on December 14, 1960.  
The 1960-61 season included teams in Balcarres, Fort Qu'Appelle, Indian Head, and Qu'Appelle.
For 1961-62 the Balcarres team withdrew and the league added a teams in Cupar, Lebret, and Wolseley.
Balcarres rejoined for 1962-63, and added a team in Montmartre while Cupar withdrew.
Balcarres withdrew in 1964.
Champions
2020 Final cancelled with Milestone leading Balcarees 1 game to none
2019 Milestone Flyers
2018 Grenfell Spitfires
2017 Grenfell Spitfires
2016 Balgonie Bisons
2015 Grenfell Spitfires
2014 Radville Nationals
2013 Balcarres Broncs
2012 Balgonie Bisons
2011 Balgonie Bisons
2010 Balgonie Bisons
2009 Balgonie Bisons
2008 Balgonie Bisons
2007 Monmartre-Glenavon Rivals
2006 Milestone Flyers
2005 Milestone Flyers
2004 Milestone Flyers
2003 Indian Head Chiefs
2002 Milestone Flyers
2001 Standing Buffalo
2000 Standing Buffalo
1999 Standing Buffalo
1998 Balcarres Broncs
1997 Monmartre-Glenavon Rivals
Seasons
2002-03 QVHL Season

2003-04 QVHL Season
Teams
External links