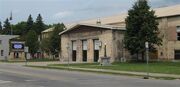 Pullar Stadium is an indoor ice hockey facility located in Sault Ste. Marie, Michigan.  It is part of a larger facility known as the Pullar Community Building.  The facility was opened in December of 1939 and cost $181,000 (US).  The arena was made possible due to a donation of $70,000 made by Sophie Nolte Pullar in her will.
The facility was one of the first facilities to have year-round ice and became a destination for many world class figure skaters in the early years of the facilities existence.
Among the teams that have used the rink over the years as a home are the Lake Superior State University Lakers, Soo Indians, Sault High School Blue Devils, the Sault Michigan Hockey Association, the Hiawatha Skating Club and various local men's recreational hockey leagues.  The revived senior level Sault Ste Marie Greyhounds used the arena for the 1947-48 season while waiting on construction of Sault Memorial Gardens which was being built to replace the Gouin Street Arena which was destroyed by fire in 1945
The facility is presently home to the Soo Eagles currently of the Northern Ontario Junior Hockey League and formerly of the North American Hockey League from 2012 to 2015.