The Provincial Junior Hockey League (PJHL) is a Canadian junior ice hockey league spanning Southern Ontario, and parts of Central Ontario. The PJHL is the third tier of the Ontario Hockey Association and is sanctioned by the Ontario Hockey Federation and Hockey Canada. The league was founded in 2016 with the merging of eight Junior C leagues. The winner of the league wins the Clarence Schmalz Cup.
History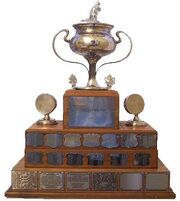 In the works since 2014, in the spring of 2016 it was announced that the eight Junior C leagues of the Ontario Hockey Association would merge for the 2016-17 season to create the Provincial Junior Hockey League. The union was in an effort to streamline rules across the classification and to promote growth and development.[1]
The leagues that formed the PJHL are the Central Ontario, Empire B, Georgian Mid-Ontario, Great Lakes, Midwestern, Niagara & District, Southern Ontario, and Western Ontario leagues.
The Erin Shamrocks announced on June 1, 2016 that they were granted a year's leave of absence for the 2016-17 season.
The Fergus Devils were on a leave of absence for 2015-16 and 2016-17.  They did not return for 2017-18 and an expansion team in the Greater Metro Junior A Hockey League started play out of the arena for 2017-18.
The Dundas Blues were renamed the Hamilton Huskies Jr. Blues during the 2018 off-season. The team would remain in Dundas under the same community ownership. The team would revert to the Dundas Blues name for the 2019-20 season.
On June 21, 2021 Todd Wood, the owner of the Paris Mounties announced that the team was transferring over to the newly formed Senior AA level ACH Senior AA G-League for its' inaugural 2021-22 season. The Junior C franchise in the PJHL is requesting a one year leave of absence from the Ontario Hockey Association in an attempt to find new ownership and to relocate the franchise.[2]
Teams
On Leave
Former Teams
| | | | | |
| --- | --- | --- | --- | --- |
| Team | Centre | Founded | Arena | Fate |
| Alvinston Flyers | Alvinston | 1988 | Brooke, Alvinston, Inwood Community Centre | relocated to Petrolia |
| Erin Shamrocks | Erin | 1971 | Erin Community Centre | Do not return after going on hiatus for 2016-17 |
| Fergus Devils | Fergus | 1990 | Fergus & District Community Centre | Do not return after being on hiatus for 2015-16 and 2016-17 |
Champions
References
External links