Providence Bruins

City:
Providence, Rhode Island
League:
American Hockey League
Conference:
Eastern Conference
Division:
Atlantic Division
Founded:
1992
Home Arena:
Dunkin' Donuts Center
Colors:
Black, gold, white

              

Owner(s):
H. Larue Renfroe
General Manager:
Don Sweeney
Head Coach:
Kevin Dean (2016-17)
Media:
The Providence Journal, Providence Bruins Radio Network
Affiliates:
Boston Bruins (NHL), Gwinnett Gladiators (ECHL)
Franchise history
1977–1992:
Maine Mariners
1992–present:
Providence Bruins
Championships
Regular Season Titles:
3 (1998–99, 2007–08, 2012-13)
Division Championships:
7: (1992–93, 1998–99, 2002–03, 2007–08, 2012–13, 2019–20, 2020–21)
Conference Championships:
1 (1998–99)
Calder Cups:
1 (1998–99)
The Providence Bruins is an ice hockey team in the American Hockey League, and are the primary development team for the NHL's Boston Bruins. They play in Providence, Rhode Island at the Dunkin' Donuts Center.
History
The Providence Bruins began operation for the start of the 1992–93 AHL season after Providence mayor Buddy Cianci negotiated a deal with the owners of the Maine Mariners franchise, Frank DuRoss and Ed Anderson, to relocate their club.
The Bruins captured their first AHL Calder Cup in the 1999 playoffs, after a regular season in which they dominated the league with 56 regular season wins. Led by rookie head coach Peter Laviolette and paced by Les Cunningham Award winner Randy Robitaille, the Bruins went from only 19 victories the previous season, to dropping the Rochester Americans 4 games to 1 to skate away with the league championship. The P-Bruins main rival is the nearby Portland Pirates.
In the 2001–2002 season, the Providence Bruins contracted with then-13-year-old musician Ben Schwartz to work as the official organist at all home games. As a result, Schwartz, who provided music for seven years until the conclusion of the 2007–08 season, holds the distinction of being the youngest organist to ever work for a professional North American sports franchise in history.[1]
The Bruins will open the 2010-11 AHL Season with a home-and-home matchup against the Springfield Falcons. The Bruins will host on October 8, 2010 in Providence, and the Falcons will host on October 9, 2010 in Springfield. To honor the 75th anniversary of the American Hockey League, each team will wear throwback jerseys. The Bruins will wear the jerseys of the Providence Reds while the Falcons will wear the jerseys of the Springfield Indians.
This market was previously served by
Team records
Single season
Career
Career goals: 101 Andy Hilbert  (2001-2005)
Career assists: 109 Andy Hilbert (2001-2005)
Career points: 210 Andy Hilbert (2001-2005)
Career penalty minutes: 1059 Aaron Downey (1997-2000, 2007)
Career goaltending wins: 86 Zane McIntyre, (2015–2019)
Career shutouts: 11 Zane McIntyre (2015–2019)
Career games: 278 Jay Henderson (1998-2003, 2004-2005)
Season-by-season results
Records as of the 2020–21 AHL season.[2]
Regular season
Playoffs
Season
Games
Won
Lost
Tied
OTL
SOL
Points
PCT
Goals
for
Goals
against
Standing
Year
Prelims
1st
round
2nd
round
3rd
round
Finals
1992–93
80
46
32
2
—
—
94
.588
384
348
1st, North

1993

—
L, 2–4, SPR
—
—
—
1993–94
80
28
39
13
—
—
69
.431
283
319
5th, North

1994

—
Did not qualify
1994–95
80
39
30
11
—
—
89
.556
300
268
3rd, North

1995

—
W, 4–3, POR
L, 2–4, ALB
—
—
1995–96
80
30
36
10
4
—
74
.463
249
280
4th, North

1996

—
L, 1–3, SPR
—
—
—
1996–97
80
35
40
3
2
—
75
.469
262
289
4th, New England
1997
—
W, 3–2, WOR
L, 1–4, SPR
—
—
1997–98
80
19
49
7
5
—
50
.313
211
301
5th, New England
1998
—
Did not qualify
1998–99
80
56
16
4
4
—
120
.750
321
223
1st, New England

1999

—
W, 3–1, WOR
W, 4–0, HWP
W, 4–2, FRE
W, 4–1, RCH
1999–00
80
33
38
6
3
—
75
.469
231
269
5th, New England
2000
—
W, 3–0, QUE
W, 4–0, LOW
L, 3–4, HWP
—
2000–01
80
35
31
10
4
—
84
.525
245
242
3rd, New England
2001
—
W, 3–2, HWP
W, 4–3, WOR
L, 1–4, SJF
—
2001–02
80
35
33
8
4
—
82
.513
190
223
3rd, East
2002
L, 0–2, SJM
—
—
—
—
2002–03
80
44
20
11
5
—
104
.650
268
227
1st, North
2003
BYE
L, 1–3, MTB
—
—
—
2003–04
80
36
29
11
4
—
87
.544
170
170
4th, Atlantic
2004
L, 0–2, POR
—
—
—
—
2004–05
80
40
30
—
3
7
90
.563
211
202
4th, Atlantic
2005
—
W, 4–2, MCH
W, 4–1, LOW
L, 2–4, PHI
—
2005–06
80
43
31
—
1
5
92
.575
254
217
4th, Atlantic
2006
—
L, 2–4, POR
—
—
—
2006–07
80
44
30
—
2
4
94
.588
251
218
3rd, Atlantic
2007
—
W, 4–3, HWP
L, 2–4, MCH
—
—
2007–08
80
55
18
—
3
4
117
.731
280
206
1st, Atlantic
2008
—
W, 4–0, MCH
L, 2–4, POR
—
—
2008–09
80
43
29
—
2
6
94
.588
238
232
2nd, Atlantic
2009
—
W, 4–1, POR
W, 4–2, WOR
L, 1–4, HER
—
2009–10
80
36
38
—
5
1
78
.488
207
226
7th, Atlantic
2010
—
Did not qualify
2010–11
80
38
36
—
3
3
82
.513
209
252
5th, Atlantic
2011
—
Did not qualify
2011–12
76
35
34
—
3
4
77
.507
193
214
4th, Atlantic
2012
—
Did not qualify
2012–13
76
50
21
—
0
5
105
.691
222
183
1st, Atlantic
2013
—
W, 3–2, HER
L, 3–4, WBS
—
—
2013–14
76
40
25
—
2
9
91
.599
233
210
3rd, Atlantic
2014
—
W, 3–2, SPR
L, 3–4, WBS
—
—
2014–15
76
41
26
—
7
2
91
.599
209
185
2nd, Atlantic
2015
—
L, 2–3, HFD
—
—
—
2015–16
76
41
22
—
9
4
95
.625
238
198
2nd, Atlantic
2016
—
L, 0–3, WBS
—
—
—
2016–17
76
43
23
—
6
4
96
.632
229
188
4th, Atlantic
2017
—
W, 3–2, WBS
W, 4–3, HER
L, 1–4, SYR
—
2017–18
76
45
26
—
3
2
95
.625
231
187
4th, Atlantic
2018
—
L, 1–3, LV
—
—
—
2018–19
76
38
27
—
8
3
87
.572
228
212
4th, Atlantic
2019
—
L, 1–3, CHA
—
—
—
2019–20
62
38
18
—
3
3
82
.661
197
154
1st, Atlantic
2020
Season cancelled due to the COVID-19 pandemic
2020–21
25
15
6
—
2
2
32
.680
78
60
1st, Atlantic
2021
No playoffs were held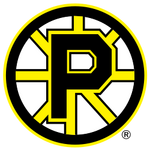 Notable alumni
List of Providence Bruins alumni who played more than 100 games in Providence and 100 or more games in the National Hockey League:
External links
References