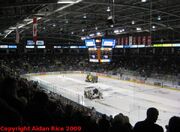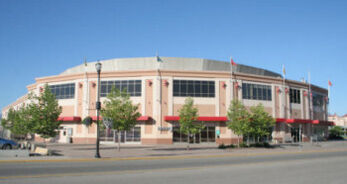 Prospera Place
Location
1223 Water Street
Kelowna, British Columbia
Broke ground
August 9, 1998
Opened
May 5, 1999
Owner
Former names
Skyreach Place
(1999–2003)
Prospera Place
(2003–Present)
Tenants
Kelowna Rockets (1999–Present)
Capacity
Concerts: 8,000
Hockey games: 6,886
Prospera Place, formerly known as Skyreach Place, is a 6,886-seat multi-purpose arena in Kelowna, British Columbia, Canada. Built in 1999, it is home to the Kelowna Rockets hockey club. It replaced the old Kelowna Memorial Arena, though Kelowna Memorial Arena is still in use for smaller venues and sports.
External links