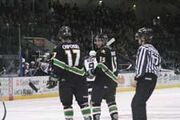 The Prince Albert Raiders are a major junior ice hockey team in the Western Hockey League. The Raiders play in the East Division of the Eastern Conference. They are based in the Saskatchewan city of Prince Albert. The team plays its home games at the Art Hauser Centre.
History
The early days
The Raiders started in 1972 as one of the most successful Tier II franchises in Canada, playing in the Saskatchewan Junior Hockey League (SJHL). Prince Albert won the Tier II national championship, the Manitoba Centennial Trophy, a record 4 times in a six-year span from 1977 to 1982. While competing for the Manitoba Centennial Trophy, the Raiders competed against a few future OHL teams, the Guelph Platers and the Belleville Bulls. The Raiders also won 7 straight Anavet Cups between 1976 until 1982 against various champions of the Manitoba Junior Hockey League.
Terry Simpson was the team's coach for those 6 years in the SJHL. He stayed with the team for its first 4 years when it moved up to the WHL. The City of Prince Albert was granted a WHL expansion franchise for the 1982–83 season.
1985 Memorial Cup
Three years later, the Raiders were the best team in the WHL. Lead by team captain Dan Hodgson, the team achieved the best regular season record in the WHL of 58 wins, 11 losses and 3 ties. The Raiders defeated the Calgary Wranglers, Medicine Hat Tigers and the Kamloops Blazers in the WHL playoffs to win the WHL championship. Other notable members of the 1984–1985 team are; Tony Grenier, Dave Pasin, Pat Elynuik, Dave Manson, Ken Baumgartner, Dave Goertz and Emanuel Viveiros.
The Raiders went on the compete for the Memorial Cup in 1985, versus the Sault Ste. Marie Greyhounds, Verdun Junior Canadiens and the Shawinigan Cataractes. In their first game, Prince Albert lost 6–2 to the Shawinigan Cataractes, with 108 penalty minutes called in total. The second game saw the Raiders beat Verdun 5 to 3 with 2 goals from defenceman Dave Goertz. In game three, the Raiders defeated the Greyhounds 8 to 6, and Dan Hodgson had 5 assists in the match. The two teams would play each other again in the semi-finals. Prince Albert would prevail again by an 8 to 3 score. The Raiders won the Memorial Cup and became CHL champions by defeating the Shawinigan Cataractes 6–1 in the final game.
Championships
Memorial Cup Champions

Manitoba Centennial Cup Champions

Western Hockey League Champions

WHL Eastern Division

1985, 1992, 1999, 2019, 2020
NHL alumni
Listed below are alumni from Prince Albert Raiders of the Saskatchewan Junior Hockey League (SJHL) and the Western Hockey League (WHL) who went on to play in the National Hockey League.
SJHL Raiders
WHL Raiders
Season-by-season record
Note: GP = Games played, W = Wins, L = Losses, T = Ties OTL = Overtime losses Pts = Points, GF = Goals for, GA = Goals against
Season
GP
W
L
T
OL
GF
GA
Pts
Finish
Playoffs
Saskatchewan Junior Hockey League
1972–73
48
33
15
0
-
284
202
48
1st SJHL North
1973–74
50
35
15
0
-
228
204
70
1st SJHL
Won League
1974–75
58
39
19
0
-
351
210
78
1st SJHL North
1975–76
58
47
10
1
-
377
184
95
1st SJHL
Won League, Won Anavet Cup
1976–77
60
45
14
1
-
392
242
91
1st SJHL North
Won League, Won Anavet Cup, Won Centennial Cup
1977–78
59
41
17
1
-
391
220
83
1st SJHL
Won League, Won Anavet Cup
1978–79
60
44
13
3
-
405
221
91
1st SJHL
Won League, Won Anavet Cup, Won Centennial Cup
1979–80
60
45
14
1
-
381
197
91
1st SJHL
Won League, Won Anavet Cup
1980–81
60
50
7
3
-
454
199
103
1st SJHL
Won League, Won Anavet Cup, Won Centennial Cup
1981–82
60
57
3
0
-
-
-
114
1st SJHL
Won League, Won Anavet Cup, Won Centennial Cup
Western Hockey League
1982–83
72
16
55
1
-
312
455
33
8th East
Out of playoffs
1983–84
72
41
29
2
-
411
357
84
5th East
Lost in first round
1984–85
72
58
11
3
-
481
255
116
1st East
Won championship and Memorial Cup
1985–86
72
52
17
3
-
424
257
107
2nd East
Lost East Division final
1986–87
72
43
26
3
-
346
264
89
3rd East
Lost East Division semi-final
1987–88
72
43
24
5
-
373
284
91
3rd East
Lost East Division semi-final
1988–89
72
37
33
2
-
302
286
76
4th East
Lost East Division quarter-final
1989–90
72
38
33
1
-
302
286
77
2nd East
Lost East Division final
1990–91
72
38
29
5
-
337
284
81
4th East
Lost East Division quarter-final
1991–92
72
50
20
2
-
356
261
102
1st East
Lost East Division final
1992–93
72
25
42
5
-
252
317
55
9th East
Out of playoffs
1993–94
72
31
37
4
-
326
321
66
8th East
Out of playoffs
1994–95
72
44
26
2
-
308
267
90
2nd East
Lost East Division final
1995–96
72
47
19
6
-
309
250
100
2nd East
Lost Eastern Conference final
1996–97
72
29
34
9
-
235
262
67
5th East
Lost Eastern Conference quarter-final
1997–98
72
20
47
5
-
322
288
45
6th East
Out of playoffs
1998–99
72
45
22
5
-
288
213
95
1st East
Lost Eastern Conference final
1999–00
72
26
33
6
7
221
257
65
4th East
Lost Eastern Conference quarter-final
2000–01
72
18
47
3
4
204
348
43
6th East
Out of playoffs
2001–02
72
26
41
2
3
234
324
57
5th East
Out of playoffs
2002–03
72
27
37
3
5
185
258
62
5th East
Out of playoffs
2003–04
72
38
23
6
5
215
186
87
2nd East
Lost Eastern Conference quarter-final
2004–05
72
31
32
5
4
185
191
71
3rd East
Lost Eastern Conference final
2005–06
72
25
36
1
10
167
228
61
5th East
Out of playoffs
2006–07
72
27
39
3
3
203
266
60
4th East
Lost Eastern Conference quarter-final
2007–08
72
26
42
3
2
196
248
57
6th East
Out of playoffs
2008–09
72
31
36
4
1
233
270
67
4th East
Out of playoffs
2009–10
72
32
35
3
2
229
249
69
5th East
Out of playoffs
2010–11
72
31
36
2
3
247
283
67
4th East
Lost Eastern Conference quarter-final
2011–12
72
21
45
3
3
219
312
48
6th East
Out of playoffs
2012–13
72
37
28
3
4
234
233
81
2nd East
Lost Eastern Conference quarter-final
2013–14
72
35
32
3
2
243
258
75
4th East
Lost Eastern Conference quarter-final
2014–15
72
31
37
2
2
215
257
66
5th East
out of playoffs
2015–16
72
38
26
7
1
222
223
84
2nd East
Lost Eastern Conference quarter-final
2016–17
72
14
46
10
2
177
335
40
6th East
out of playoffs
2017-18
72
32
27
9
4
245
250
77
5th East
Lost Eastern Conference semi-final
2018-19
68
54
10
2
2
307
156
112
1st East
Won Championship Eliminated in 2019 Memorial Cup round robin
2019-20
64
36
18
6
4
210
160
82
1st East
Playoffs cancelled
2020-21
24
9
11
3
1
70
81
22
4th Hub
Playoffs cancelled
WHL Championship history
Playoffs
SJHL Years
Prince Albert Raiders defeated Weyburn Red Wings 4-games-to-2
Melville Millionaires defeated Prince Albert Raiders 4-games-to-2
Prince Albert Raiders defeated Yorkton Terriers 4-games-to-1
Humboldt Broncos defeated Prince Albert Raiders 4-games-to-none
Prince Albert Raiders defeated Saskatoon Olympics 4-games-to-1
Prince Albert Raiders defeated Battleford Barons 4-games-to-none
Swift Current Broncos defeated Prince Albert Raiders 4-games-to-2
Team records
Team records for a single season
Statistic
Total
Season
Most points
116
1984–85
Most wins
58
1984–85
Most goals for
481
1984–85
Least goals for
167
2005–06
Least goals against
186
2003–04
Most goals against
455
1982–83
Individual player records for a single season
Statistic
Player
Total
Season
Most goals
Dan Hodgson
70
1984–85
Most assists
Dan Hodgson
119
1983–84
Most points
Dan Hodgson
182
1984–85
Most points, rookie
Dan Hodgson
130
1982–83
Most points, defenceman
Emanuel Viveiros
109
1983–84
Best GAA (goalie)
Rejean Beauchemin
2.32
2003–04
Goalies = minimum 1500 minutes played
External links