The Prince's Rink was an ice hockey rink located in St John's, Newfoundland.  The facility was named after the then Prince of Wales and future King Edward VII.  The facility was built on land owned by Reid Newfoundland Company which built the trans-island railway system for Newfoundland.  The rink was located in the Fort William area near the Hotel Newfoundland and the St. John's Railway Station.  The foundation was laid on December 11, 1898 and rink opened in 1899 and served as the area's primary hockey venue until it burned down in 1941
The construction of the rink lead to the founding of the St John's Hockey League for the 1899-1900 season.  The governor of Newfoundland donated a trophy to be presented to the senior hockey champions of St. John's starting in 1904.  The trophy became known as the Boyle Trophy and would be awarded to the city champion until senior hockey collapsed in the city in 1971.
The arena installed the first artificial ice surface in Newfoundland in 1937.  After the arena burned down there would not be another artificial ice rink in Newfoundland until 1954 when Memorial Stadium  in St. John's and Humber Gardens opened in Corner Brook
Due to World War II the city had other priorities after the rink burnt down and replacement was not a priority.  In 1948 a Citizen's Committee was formed to raise funds to build a new arena to be named in honour of the Newfoundlanders who lost their lives during the war.  The fund raising was going slow.  Enough money was raised to get the construction started in 1952. The Saint John's City Council ended up floating a bond to help pay for what was to be known as Memorial Stadium in 1954.  The faciilty official opened in 1955 at a cost of $7,000,000.  This facility would seat 4,190 and become St. John's main arena until 2001 with the opening of the Mile One Centre.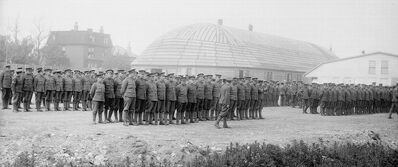 sources:
Community content is available under
CC-BY-SA
unless otherwise noted.