The potential of including addition franchises to the Kontinental Hockey League (KHL) has been an ongoing topic since the league's inception. It has been reported that the league seeks to expand to 30 teams.[1]
Proposed pan-European league
Edit
In 2009, KHL proposed merging itself into a new league (called United Hockey Europe), to play across Europe starting in 2011.
Central Europe
Edit
The Czech Republic's HC Energie Karlovy Vary [2] has signed letters of intent with the KHL. Barring budget and payroll issues, they would have been able to compete for the 2009-10 season.[3] However, they had to annul plans to join the league for the time being[4], due to the financial crisis of 2007–2010.[5] The club intended to continue its operations in the Czech Extraleague, while creating an expansion franchise consisting of top Czech players to play in the KHL.
Representatives of Hradec Králové hockey club have been negotiating with their KHL counterparts in Moscow in December, 2009 about a possible future participation in the KHL of the Hradec Králové team. The team would be named Hradecký Lev (English: Hradec's Lion). A protocol of intentions was signed between the club's management and representatives of the KHL on March 5, 2010.[6][7][8] The Czech Ice Hockey Association however refused to give the permission to the club to play in the KHL. The team's management decided to move the team to Poprad, Slovakia. Lev Poprad was accepted into the league for 2010–11 season. Later however the KHL excluded the team from the league for 2010–11.[9]
German teams Eisbären Berlin [10] and Kölner Haie [11] have been approached by the KHL but are currently not considering joining the league. The KHL also wants to expand to Austria by affiliating EC Red Bull Salzburg. SKA Saint Petersburg General manager Barry Smith said that an affiliation may be possible in three or four years. Red Bull and team owner Dietrich Mateschitz, however, favours playing in the German Deutsche Eishockey Liga.[12].[13]
Northern Europe
Edit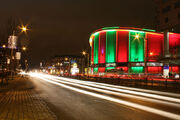 On 28 April 2009, it was reported that the Swedish teams HV 71, Linköpings HC, Färjestads BK, Frölunda HC and Djurgårdens IF (of which Färjestad and Frölunda have had offers previously from the KHL) broke their contracts with Elitserien's club association. This caused speculation as to whether they want to join the KHL or create a new league as an expansion of the Nordic Trophy. None of the clubs have officially said that they want to stop playing in Elitserien, although the seven remaining clubs have drawn such conclusions.[14] The quarrel was at least temporarily resolved on 9 June 2009, when all clubs agreed to continue their operation in Elitserien through the 2010–2011 season.[15]
According to Russia Today News, Finland's Kärpät is also interested.[16]
In November 2009, the KHL and AIK Hockey from Stockholm, Sweden signed a document announcing the invitation from KHL to AIK Hockey club to become a member of the KHL, and join the League's Championship beginning from the 2010–11 season provided AIK observes all the terms and conditions, and meets all KHL admission criteria.[17] However, in the end AIK chose to not to join after the plan was rejected by the Swedish Ice Hockey Association.
It is possible to see a new team in Vilnius, Lithuania. In Autumn 2009, KHL's SKA and Bars Kazan played a exhibition game there, with more such games likely in the future. The main hurdles to be overcome for bringing a team there is funding, as well the fact that basketball is very popular in the region.[18] The team will be called Vėtra Vilnius, and will be an expansion of the Sports Association Vėtra. [4]
Eastern Europe
Edit
The Belarus Ice Hockey Federation has announced that it plans to include up to four Belarussian teams in the KHL, with league VP Vladimir Shalaev confirming the prospect of adding a second Belarussian KHL team for the 2009-10 season.[19][20] Of these, Yunost Minsk, along with HC Homiel (which may relocate to Babruysk due to arena complications) of the Belarusian Extraleague, are actively taking steps to join the KHL[21][22].
Ukraine's Sokol Kiev is attempting to join, but financial issues have delayed a bid. They have a new 12,000 seat arena due in 2012 and are currently in negotiation with the KHL to join for the 2010-11 season. President of the Hockey Federation of Ukraine, Anatoly Brezvin, stated "I can not say under what brand it will be [...] Sokol, HK Kiev or some other. But there is some agreement that the next season will be [a] team from Ukraine, with Ukrainian players in the KHL."[23] Also from Kiev, the expansion HC Budivelnyk has signed letters of intent and concurrently plans on joining the league next season. HC Donbass of Donetsk are currently in the process of building a KHL regulation arena and developing its infrastructure so that it may make a pitch to join the league as soon as possible.
Krylya Sovetov has declared interest to join the league for the 2010-11 season.[24]
Another potential candidate city for expansion is Sochi. The 2014 Winter Olympics will result in huge amounts of investment in the city, with one result being the construction of the Bolshoi Palace arena. It is possible that the city may see a new team or relocated team there by the start of the Olympics.[18]
North Asia
Edit
Avtomobilist Yekaterinburg[25] replaced Khimik Voskresensk for the 2009-10 season. Gazovik Tyumen may join the league in coming years, whereas Vityaz Chekhov may leave the league.[26]
Of the Russian Major League, Yugra Khanty-Mansiysk has expressed interest in joining in the future, with ownership hoping to ascend by 2013 or beyond. By the end of 2008 they planned to have a 5,500 capacity arena completed to meet KHL specifications[27]. The low population of this area, however, makes it highly unlikely a team will ever garner enough interest to warrant such an investment.
The Island of Sakhalin in the Russian Far East might receive a team in the future. HC Rys', of the Russian Major League, is in negotiations to relocate the team there. Yuzhno-Sakhalinsk, the largest city on the island, has a population of almost 200,000. Plans are in the works to build a new arena in the city by 2011.[18]
Kazzinc-Torpedo, currently playing in the Russian Major League, has been in negotiations to join the KHL.[28] The club, formerly known as Torpedo Ust-Kamenogorsk, used to play in the highest division during the Soviet era. Torpedo has typically been the most dominant developmental club in Kazakhstan. Most Kazakh players who have reached the NHL trace their roots to Torpedo.[29]
Teams involved to date
Edit
References
Edit
↑ Umicevic, Dusan. "Frölunda överväger flytt till ryska ligan", Dagens Nyheter, 2008-04-20. Retrieved on 2008-04-21.

(Swedish)

 

↑ ЮРИН, Владимир (2008-05-16). ЧЕРЕЗ ГОД БУДЕМ ИГРАТЬ С "КАРЛОВЫМИ ВАРАМИ"

(Russian)

. Sport-Express.
↑ КХЛ и «Энергия» (Карловы Вары) подписали протокол о намерениях

(Russian)

. KHL (2008-10-10).
↑ http://www.bloomberg.com/apps/news?pid=20601077&sid=aZ7cLyu.Wkvo Published May 17, 2009, looked at May 19, 2009.
↑ Hradec Králové je už jen krůček od KHL. hokej.sport.cz. Retrieved on 2010-03-05.
↑ Подписан протокол о намерениях между КХЛ и чешским клубом. khl.ru. Retrieved on 2010-03-05.
↑ Czech lions in Russia?. IIHF. Retrieved on 8 March 2010.
↑ 9.0 9.1 «Лев» не сыграет в ближайшем сезоне

(Russian)

. Kontinental Hockey League (28 July 2010). Retrieved on 29 July 2010.
↑ KHL lockt Berlin — Verlassen die Eisbären die DEL?

(German)

(2008-08-12).
↑ KHL - eine neue NHL-Ost?

(German)

(2008-08-28).
↑ "Russische KHL will Salzburg", Suedtirol online, 2009-05-28. Retrieved on 2008-09-06.

(German)

 

↑ "Эксклюзив. Александр Медведев: я как Лукашенко", Pressball, 2008-05-30. Retrieved on 2008-07-17.

(Russian)

 

↑ LHC lämnar elitserien?. Östgöta Correspondenten (2009-04-28).
↑ Elitserielagen överens om framtiden. Sveriges Television (2009-06-10).
↑ Russian league set to rival NHL [Television News Production].
↑ Swede dreams. en.khl.ru, November,19 2009
↑ 18.0 18.1 18.2 Merk, Martin. "Going East and West", International Ice Hockey Federation, 2009-10-14. Retrieved on 2010-04-02.

 

↑ "Эксклюзив. Александр Медведев: я как Лукашенко", Pressball, 2008-05-30. Retrieved on 2008-07-17.

(Russian)

 

↑ "Дебютант Высшей лиги планирует в перспективе выйти в КХЛ", Championat.ru, 2008-06-23.

(Russian)

 

↑ 30.0 30.1 30.2 Завершен прием заявок от клубов, желающих вступить в КХЛ. khl.ru. Retrieved on 2010-04-01.
↑ Владимир Шалаев: Серьезно рассматриваем только «Югру» и «Будевельник». Retrieved on 1 April 2010.
Community content is available under
CC-BY-SA
unless otherwise noted.