PostFinance Arena

PostFinance-Arena
Location
Mingerstrasse 12
3014 Bern
Opened
1967
Owner
Swiss Prime Site AG
Former names
Eisstadion Allmend
Bern Arena
Tenants
SC Bern (National League A) (1967 - present)
Capacity
17,131
(Previously 16,789)
PostFinance Arena (originally known as Eisstadion Allmend and Bern Arena) is an arena in Bern, Switzerland. It is primarily used for ice hockey and is the home arena of SC Bern. It was built in 1967 and holds currently 17,131 people.
The PostFinance Arena was the main arena for the 2009 IIHF World Championships, and has already hosted the inaugural Victoria Cup.
Attendance
The PostFinance Arena holds a Europe-wide record, having a 16,203 spectator average in the 2008/2009 season.
Renovation
Due to its age and with an eye towards the 2009 IIHF World Championships, the arena was renovated. The holder invested about 100 million Swiss Francs into the extension and restoration of the building. The modification was finished by April 24, 2009, when the World Championships started. The VIP-zone was entirely rebuilt and the capacity there was extended by about 500. The total capacity is now 17,131 spectators.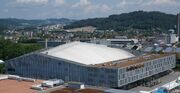 Notes