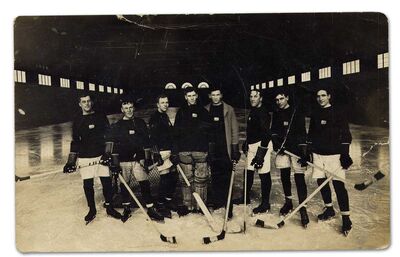 The Portland Rosebuds name was used by two professional teams based in Portland, Oregon. Both played their home games at the Portland Ice Arena.
The first team played in the Pacific Coast Hockey Association from 1914 to 1918. In 1916 they became the first United States-based team to participate in the Stanley Cup Finals.
The second Rosebuds team was born when the Regina Capitals moved to Portland for the 1925-26 WHL season, the final one for the Western Hockey League (WHL).
When the league folded, the Saskatoon players were sold to form the Montreal Maroons. Frank Patrick then negotiated the sale of the rest of the WHL players to the National Hockey League. The players were to be sold as three teams, one from the Victoria Cougars, one from the Rosebuds, and a third from the best players from Calgary, Edmonton and Vancouver. A deal was reached where the players of the Rosebuds were sold for $100,000 to form the new Chicago Black Hawks expansion franchise.
Season-by-Season Records
Season
Games
Won
Lost
Tied
Points
Goals
for
Goals
against
Standing
Playoffs
1914-15
18
9
9
0
18
91
83
2nd
no playoffs
1915-16
18
13
5
0
26
71
50
1st
Lost Stanley Cup Final
1916-17
24
9
15
0
18
114
112
3rd
out of playoffs
1917-18
18
7
11
0
14
63
175
3rd
out of playoffs
Season
Games
Won
Lost
Tied
Points
Goals
for
Goals
against
Standing
Playoffs
1925-26
30
12
16
2
26
84
106
4th
out of playoffs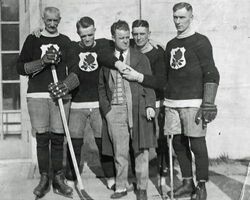 Rosebuds who played in the

NHL
See also