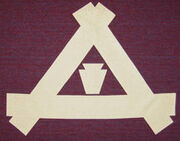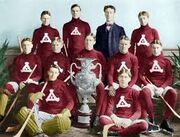 The Pittsburgh Keystones were a Pittsburgh hockey club that consisted of a group of local men from Western University (University of Pittsburgh) and Carnegie Tech during the late 1800s and early 1900s. The Keystones began as an amateur hockey team which played on Saturday afternoons at the Schenley Park Casino located in the Oakland neighborhood of Pittsburgh, Pennsylvania.
When the Casino burned to the ground in 1896, the Keystones, and every other amateur team in Pittsburgh, played all of their games at the new Duquesne Gardens. The Gardens, because of its artificial ice surface, lured many hockey players to Pittsburgh from Canada. In 1901 the team became members of the the Western Pennsylvania Hockey League. This led to the Keystones laying partial claim to being the first team to pay athletes.
In the summer of 1902 Harry Peel, a Keystones player in 1901-02, admitted that he was paid $35 a week to play in the so-called amateur league and so no amateur teams would play against these teams again without being suspended by either Canadian, or U.S. officials. Peel was later suspended by the Ontario Hockey Association and an appeal was rejected on December 10, 1903 and again on November 30, 1904. However by the 1902-03 season the WPHL, was known as a fully professional league.
The next season, the Portage Lakes Hockey Club of Houghton, Michigan began a professional league which continued to play Pro exhibition games against Pittsburgh. However the league soon raided Pittsburgh's teams for top players like Riley Hern and Bruce Stuart. This led the Keystones to withdrew from the league on January 17 1903. Their players were dispersed to the WPHL other three teams.