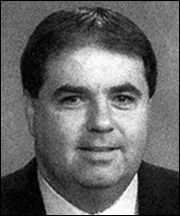 Pierre Lacroix (born August 3, 1948, in Montreal, Quebec, Canada) is the President of the Colorado Avalanche of the National Hockey League. Lacroix is also the former General Manager of the Avalanche where he led them to two Stanley Cups during his tenure. He is known for his astute trades, such as his acquisition of Patrick Roy during the 1995–96 NHL season that led to a Cup that season and his trades for star defensemen Rob Blake and Ray Bourque during the 2000–01 NHL season that also led to a Stanley Cup.
On March 8, 2006, a day before the NHL trade deadline, Pierre Lacroix traded goalie David Aebischer for 2002 Hart and Vezina trophy winner José Théodore. This trade has been criticized in the local media because Théodore was having a very bad season and was injured at the time of the trade.
On May 12, 2006, Lacroix announced that he would be giving up his general manager duties and focusing solely on a new role as team president.
On April 8, 2008, Lacroix was inducted to the Colorado Sports Hall of Fame for his contributions to the Colorado Avalanche organization.
References
Edit
Community content is available under
CC-BY-SA
unless otherwise noted.