Pictou County Weeks Crushers

City:
New Glasgow, Nova Scotia, Canada
League:
Maritime Junior A Hockey League
Division:
Bent
Founded:
1967
Home Arena:
Pictou County Wellness Centre
Colors:
Red, Black, and White


              

General Manager:
Jason Malone
Head Coach:
Jason Malone
Franchise history
1967 - 1969:
Halifax Colonels
1969 - 1975:
Halifax Blazers
1975-1977:
Halifax Centennials
1977-1989:
Halifax Lions
1989-1990:
Halifax DQ Blizzards
1990-1991:
Halifax Jr. Canadians
1991-1993:
Halifax Mooseheads
1993-1994; 1998-2003:
Halifax Oland Exports
1995-1998:
Dartmouth Oland Exports
2003-2004:
Halifax Team Pepsi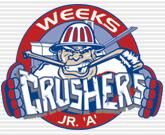 The Pictou County Weeks Crushers are a Junior "A" hockey team based in New Glasgow, Nova Scotia. They are in the Maritime Junior A Hockey League's Bent Division along with five other Nova Scotia clubs. The Crushers play their home games at Pictou County Wellness Centre.
History
The Crushers originated in Halifax. The franchise, under various names in Nova Scotia's capital city, holds the MHL (formerly the MJAHL) record for most championships with 10. As the Halifax Oland Exports, they captured the 2002 Royal Bank Cup on home ice. Due to financial reasons, the team's name was changed to Halifax Team Pepsi for the 2003-2004 campaign.
In the spring of 2004, the Weeks Hockey Organization bought the club, moved it to New Glasgow and renamed it the Pictou County Weeks Crushers. The team's name and logo are tied to its founding sponsor, Weeks Construction.
After struggling to attract fans in Halifax's crowded hockey market, the Crushers soared up the attendance ladder in New Glasgow and are now one of the league's top draws at the gate.
The Crushers hosted the 2005 MJAHL All-Star Game and the 2006 MJAHL Entry Draft.
In April 2008, the Crushers were the Fred Page Cup host team. They shocked everyone as the underdogs defeated the defending FPC champion Pembroke Lumber Kings 4-1 in the championship game. With the victory, the Crushers advanced to their first ever Royal Bank Cup, in Cornwall, Ontario. They went 1-4 at the RBC, losing the semifinal game 3-0 to the Camrose Kodiaks.
The team won their first league championship since moving to New Glasgow(Kent Cup) in 2016.
Season-by-season record
Season
GP
W
L
T
OL
GF
GA
P
Results
Playoffs
1972-73
40
24
14
2
-
201
163
50
3rd MVJHL
1973-74
34
23
8
3
-
211
123
49
3rd MVJHL
1974-75
Statistics Not Available
1975-76
32
14
16
2
-
175
192
30
5th MVJHL
1976-77
32
14
12
6
-
199
157
34
5th MVJHL
1977-78
36
19
16
1
-
177
164
39
3rd MVJHL
1978-79
34
23
8
3
-
200
107
49
1st MVJHL
Won League
1979-80
Statistics Not Available
1980-81
39
30
4
5
-
294
127
65
1st MVJHL
1981-82
40
23
13
4
-
211
184
50
2nd MVJHL
Won League
1982-83
39
22
13
4
-
--
--
48
2nd MVJHL
Won League
1983-84
40
30
6
4
-
358
183
64
1st MVJHL
Won League
1984-85
40
27
9
4
-
269
169
58
2nd MVJHL
1985-86
40
20
18
2
-
230
220
42
3rd MVJHL
1986-87
40
32
7
1
-
285
142
65
1st MVJHL
1987-88
40
21
12
7
-
237
186
49
1st MVJHL
Won League
1988-89
40
20
12
8
-
271
201
48
2nd MVJHL
1989-90
40
25
12
3
-
313
181
53
2nd MVJHL
1990-91
39
25
8
6
-
219
157
56
2nd MVJHL
Won League
1991-92
46
34
7
5
-
304
154
73
1st MJAHL
Won League
1992-93
48
26
14
8
0
290
228
60
1st MJAHL
1993-94
48
36
9
1
2
321
202
75
1st MJAHL
1994-95
48
23
20
3
2
216
188
51
4th MJAHL
1995-96
54
30
21
3
0
324
274
63
3rd MJAHL
Won League
1996-97
56
36
15
3
2
321
242
77
1st MJAHL
1997-98
52
34
15
2
1
286
205
71
1st MJAHL
1998-99
48
31
15
2
-
231
161
65
2nd MJAHL
1999-00
52
38
8
4
2
296
178
82
1st MJAHL
Won League
2000-01
52
33
19
0
0
232
188
66
4th MJAHL
2001-02
52
38
8
4
2
260
135
82
1st MJAHL
Won League, Won FPC, Won RBC
2002-03
52
15
35
2
0
164
248
34
9th MJAHL
2003-04
52
18
27
4
3
184
223
43
10th MJAHL
2004-05
56
26
24
6
0
162
168
58
6th MJAHL
Lost Division Semi-Final
2005-06
56
31
19
0
6
173
170
69
4th MJAHL
Lost Division Final
2006-07
58
24
28
0
6
191
208
54
9th MJAHL
Lost Division Semi-Final
2007-08
58
35
21
-
2
246
180
72
5th MJAHL
Lost Division Final, Won FPC
2008-09
54
25
23
-
6
154
177
56
8th MJAHL
Lost Division Semi-Final
2009-10
49
27
21
-
1
159
157
55
5th MJAHL
Lost Final
2010-11
52
31
16
-
5
199
152
67
3rd MHL
Lost Final
2011-12
52
27
18
-
7
187
191
61
5th MHL
Lost Mini Series
2012-13
52
28
19
-
5
199
185
61
6th MHL
Lost Division Semi-Final
2013-14
52
35
12
-
5
204
137
75
3rd MHL
Lost Division Final
2014-15
48
29
14
-
5
182
167
63
3rd MHL
Lost Division Semi-Final
2015-16
48
25
18
-
5
172
143
55
7th, MJAHL, 3rd South
Won Kent Cup
Eliminated in Round Robin at Fred Page Cup
Season
GP
W
L
OL
SL
GF
GA
P
Results
Playoffs
2016-17
50
38
9
2
1
265
145
79
1st MJAHL, 1st South
L, DSF 3-4, (Ramblers)
2017-18
50
21
24
3
2
157
173
47
9th MJAHL, 5th South
Did not qualify
2018-19
50
22
21
3
4
170
178
51
5th South
Did not qualify
2019-20
52
29
21
2
-
174
159
60
3rd South
Playoffs cancelled before start
2020-21
14
9
2
0
104
137
.429
4th South
TBD
External links