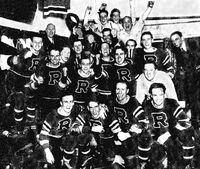 The Philadelphia Ramblers were a minor professional team based in the Philadelphia Arena in Philadelphia, Pennsylvania. The Ramblers played for six seasons during the infancy of the American Hockey League from 1935 to 1941.
History
The Ramblers were formerly known as the Philadelphia Arrows from 1927 to 1935 and played in the Canadian-American Hockey League. The team changed named to the Ramblers for the 1935–36 season. The Canadian American Hockey League merged into the International-American Hockey League in 1936, where the Ramblers competed for another four seasons, before that league became known as the modern-day American Hockey League.
From 1935 through 1941 the team was the primary minor league affiliate of the New York Rangers and many future and aging Ranger stars (such as Bert Gardiner and Larry Molyneaux) played for the Ramblers. The Rangers ended the agreement after the 1940–41 season. The team changed its name to the Philadelphia Rockets for the 1941–42 season, which turned out to be their final season.
A notable former member of the 1935–41 Ramblers was Bryan Hextall, Sr., grandfather of future Philadelphia Flyers goaltender Ron Hextall.
Season-by-season results
Regular season
Season
Games
Won
Lost
Tied
Points
Goals
for
Goals
against
Standing
1927–28
40
13
25
2
28
79
105
6th, CAHL
1928–29
40
12
21
7
31
60
73
6th, CAHL
1929–30
40
20
18
2
41
120
121
2nd, CAHL
1930–31
40
12
22
6
30
84
108
4th, CAHL
1931–32
40
13
22
5
31
85
114
5th, CAHL
1932–33
48
29
12
7
65
153
95
1st, CAHL
1933–34
40
17
15
8
42
121
101
3rd, CAHL
1934–35
48
15
30
3
33
122
160
5th, CAHL
1935–36
48
27
18
3
57
151
106
1st, CAHL
1936–37
48
26
14
8
60
149
106
1st, East
1937–38
48
26
18
4
56
134
108
2nd, East
1938–39
54
32
17
5
69
214
161
1st, East
1939–40
54
15
31
8
38
133
170
4th, East
1940–41
56
25
25
6
56
166
167
4th, East
1941–42
56
11
41
4
26
157
254
5th, East
Playoffs
Season
1st round
2nd round
Finals
1927–28
Out of playoffs
1928–29
Out of playoffs
1929–30
L, 0-2, Boston
out
out
1930–31
Out of playoffs
1931–32
Out of playoffs
1932–33
bye
none
L, 2-3, Boston
1933–34
L, 0-2, Boston
out
out
1934–35
Out of playoffs
1935–36
bye
none
W, 3-1, Providence
1936–37
bye
W, 2-0, Spring.
L, 1-3, Syracuse
1937–38
W, 2-0, NH
L, 1-2, Prov.
out
1938–39
bye
W, 3-2, Hershey
L, 1-3, Cleveland
1939–40
Out of playoffs
1940–41
Out of playoffs
1941–42
Out of playoffs
External links