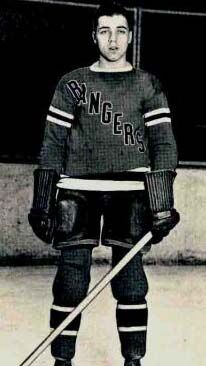 Phillipe Henri "Phil" Watson (October 24, 1914, in Montreal, Quebec – February 1, 1991) was a professional player and coach in the NHL.
Playing Career
Watson started out in the Junior Amateur Hockey Association (JAHA) which was a Montreal area junior league. He played there for three seasons with Montreal St Francois (1932-34) and the Montreal Junior Royals (1934-35).
He was then signed by the New York Rangers. He played for them from 1935-36 through 1948-49 with the exception of 1943-44. Watson won a Stanley Cup in 1939-40.
In 1943-44, during World War II, the Canadian government refused to allow Watson to leave the country. They said that he had to perform war work in Canada. The Rangers lent him to the Montreal Canadiens for the year in a trade for Dutch Hiller and Charlie Sands. Watson worked for Fairchild Aircraft in Montreal and was only able to play for the Canadiens in Montreal and Toronto. He did win the Stanley Cup that year.
Watson retired in 1949, having played 590 games in the NHL and scoring 144 goals and 265 assists.
Coaching Career
Soon after retiring as a player Phil Watson became a coach. He was Head coach of
In the 1952-53 QJHL season Watson was at the centre of a controversy. In the 3rd game of the final, he caused a near riot over a controversial goal by the Montreal Junior Canadiens. The Quebec Amateur Hockey Association insisted on a peace bond from Watson to continue the series. The Citadelles refused and instead pulled out of the QJHL playoffs. They joined the Memorial Cup playoffs instead. The Quebec Amateur Hockey Association (QAHA) had been suspended by the Canadian Amateur Hockey Association (CAHA) so this move caused a lot of yelling by the QAHA. The CAHA welcomed the Citadelles with open arms.
Awards and Achievements
Gallery
External Links