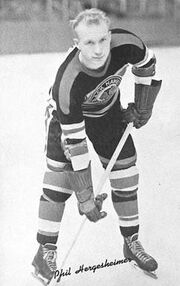 Phil "Nip" Hergesheimer (July 9, 1914 – March 6, 2004) was a professional ice hockey right winger.
A native of Winnipeg, Manitoba, Canada, Hergesheimer was the brother of fellow NHL player Wally Hergesheimer.
Hergesheimer was a four time American Hockey League All-Star, and the winner of the Calder Cup Trophy in 1946. By 1951 his AHL career had totaled 288 goals and 265 assists for 553 points in 548 games. He retired in 1955 as the second-leading goal scorer of his era, and today still ranks 20th on the league's all time list.
Phil played three seasons with the Chicago Blackhawks from 1939-40 thorugh 1941-42 plus part of 1942-43. He scored 21 goals and 41 assists in 125 NHL games played,
He finished his professional career in 1951 and then joined the Kelowna Packers of the Okanagan Senior League for three seasons. He retired in 1955 after having spent the 1954-55 season with the Kamloops Elks of the same league.
On March 6, 2004, Hergesheimer died in Kelowna, British Columbia, shortly before he was inducted into the Cincinnati Hockey Hall of Fame.
Awards & Achievements
[
]
External Links
[
]
[[Category:Retired in 1955]