The Petrolia Flyers are a Junior "C" team based out of Petrolia, Ontario. They play out of the Provincial Junior Hockey League after playing in the Great Lakes Junior C Hockey League as the Alvinston Flyers until 2016.
History
The Flyers were founded in 1988 as members of the Western Junior D Hockey League. The Flyers only managed two wins during the 1988-89 season and six in the 1989-90 season. In 1992-93, the Flyers finally showed some promise in the (then) OHA Junior Development League with a record of 22-15-1-0. Unfortunately for the Flyers, the OHAJDL had swelled up to 18 teams by then and despite a good record, with so many teams, the Flyers only managed to place sixth. After six seasons with the WJDHL/OHAJDL, the Flyers were promoted to the Great Lakes Junior C Hockey League.
From the year the Flyers join, 1994-95, until the 2012-13 season, the Flyers have finished as high as second place in the league standings (2003-04, 25-13-1-1), but have yet to have any real success in the league playoffs. From the 2007 playoffs until the 2013 playoffs, the Flyers have bailed out of the quarter-finals six times and did not qualify in 2009.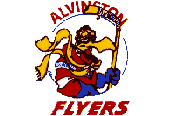 In February 2016, Flyers management submitted a proposal to relocate the team to Petrolia starting next season. The proposal was accepted and the team moved to Petrolia. During the summer of 2016 the Great Lakes Junior C Hockey League was amalgamated into the Provincial Junior Hockey League.
Season-by-season record
Season
GP
W
L
T
OL
GF
GA
P
Results
Playoffs
1988-89
35
2
33
0
-
91
296
4
19th WJDHL
1989-90
35
6
23
6
-
130
227
18
15th WJDHL
1990-91
40
9
29
2
0
122
230
20
17th WJDHL
1991-92
40
14
19
5
2
164
177
35
11th OHAJDL
1992-93
38
22
15
1
0
183
161
45
7th OHAJDL
1993-94
40
13
26
1
-
146
207
27
15th OHAJDL
Lost Quarter-final
1994-95
40
18
18
3
1
139
138
40
6th GLJHL
1995-96
41
14
24
3
0
150
160
31
9th GLJHL
1996-97
40
15
18
4
3
133
145
37
8th GLJHL
1997-98
44
24
14
3
3
168
142
54
4th GLJHL
1998-99
40
6
31
1
2
109
217
15
10th GLJHL
1999-00
40
7
28
4
1
118
198
19
9th GLJHL
2000-01
39
15
20
1
3
160
169
34
7th GLJHL
2001-02
40
19
18
3
0
159
160
41
6th GLJHL
2002-03
40
26
12
1
1
166
118
54
3rd GLJHL
2003-04
40
25
13
1
1
166
120
52
2nd GLJHL
2004-05
40
22
10
4
4
172
136
52
3rd GLJHL
2005-06
40
17
19
3
1
148
157
38
7th GLJHL
Lost Semi-final
2006-07
40
13
23
2
2
144
195
30
7th GLJHL
Lost Quarter-final
2007-08
40
16
18
1
5
119
152
38
4th GLJHL
Lost Quarter-final
2008-09
40
12
25
-
3
144
218
27
9th GLJHL
DNQ
2009-10
40
12
27
-
1
156
262
25
8th GLJHL
Lost Quarter-final
2010-11
40
16
21
-
3
149
171
35
6th GLJHL
Lost Quarter-final
2011-12
40
19
17
-
4
167
169
42
6th GLJHL
Lost Quarter-final
2012-13
40
20
17
1
2
153
146
43
6th GLJHL
Lost Quarter-final
2013-14
40
22
17
-
1
169
157
45
5th GLJHL
Lost Quarter-final - 3-4 - (Wheatley)
2014-15
40
19
17
-
4
142
145
42
5th GLJHL
Lost Quarter-final - 2-4 - (Blenheim)
2015-16
40
12
22
1
5
136
196
30
8th GLJHL
Lost Quarters - 0-4 - (Essex)
Petrolia Flyers
2016-17
40
7
33
0
-
108
212
14
8th Stobbs
Lost Div. Quarters - 0-4 - (Lakeshore)
2017-18
40
19
18
0
3
147
140
41
6th Stobbs
Lost Div. Quarters - 0-4 - (Essex)
2018-19
40
10
25
0
5
92
168
25
8th Stobbs
Lost Div. Quarters - 0-4 - (Essex)
2019-20
40
14
22
1
3
95
146
32
6th Stobbs
Lost Div Quarters - 3-4 (Amherstburg)
2020-21
Season cancelled due to COVID-19 pandemic
External links