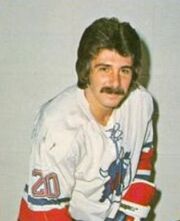 Peter Marrin (born August 8, 1953 in Toronto, Ontario) is a retired professional ice hockey centre who played 277 games in the World Hockey Association. He played with the Toronto Toros and Birmingham Bulls.
He played for the Toronto Marlboros from 1970 to 1973, winning the Memorial Cup in 1973. The Montreal Canadiens picked him 22nd overall in the 1973 NHL Amateur Draft while the Toronto Toros chose him 44th overall in the 1973 WHA Amateur Draft.
Marrin opted to join the Toros. He split the 1973-74 and 1974-75 seasons between Toronto and the Mohawk Valley Comets and then became a Toro regular in 1975-76. When the Toros became the Birmingham Bulls in 1976-77 Marrin followed. He played there until the WHA folded in 1979.
He played for the new Bulls team in the Central Hockey League in 1979-80. Marrin played two more seasons in the minor pros and retired in 1982.
External Links