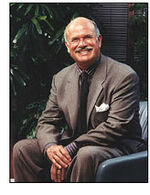 Peter Karmanos, Jr. (born in Detroit, Michigan) is the CEO of Compuware Corporation and owner of the Carolina Hurricanes, Plymouth Whalers and Florida Everblades hockey franchises.
Born into a Greek immigrant family, Karmanos did not start speaking English until he was in grade school. He graduated from Wayne State University and founded Compuware, a software company based in Detroit in 1973, with two partners, Thomas Thewes and Allen Cutting.
Karmanos cofounded the Detroit Compuware Hockey organization in the late 1970s with Thewes. The organization includes all levels of hockey from recreational to AAA and Junior A. The Ontario Hockey League awarded an expansion franchise on December 11, 1989 to be known as the Detroit Compuware Ambassadors. The team later became the Detroit Junior Red Wings, Detroit Whalers and are now called the Plymouth Whalers.
Karmanos purchased the Hartford Whalers in 1994. At the time, Karmanos had committed to keeping the team in Hartford. Connecticut's then-governor Lowell P. Weicker announced that Karmanos would be critical for the team to stay in Hartford. Weicker later became a member of the Compuware Board of Directors. Karmanos was unable to sell 14,000 season tickets in Hartford during the 1995–1996 NHL season and announced the team would leave Hartford before a new city had been found if the Whalers were unable to sell 14,000 season tickets for the 1996–1997 season. Despite reaching this sales figure the team was moved to Raleigh, North Carolina and renamed the Carolina Hurricanes following the 1996–1997 season. Karmanos moved the team, despite his earlier commitment to hockey in Hartford.
Karmanos received the Lester Patrick Trophy for outstanding service to hockey after the 1997–1998 season. The team went on to win the Stanley Cup in 2006.
The same competitive spirit which led to Karmanos' successes as an entrepreneur also fuels his sponsorship of youth hockey programs in Michigan. Under his guidance, Karmanos' youth hockey teams have accumulated numerous state, national and international tournaments. While junior and midget teams are the focal points of Karmanos' commitment to hockey, countless youth hockey programs benefit each season through the efforts and contributions of the Plymouth Whalers, Carolina Hurricanes and Compuware.
He donated money to the Prentis Cancer Center, which was later renamed the Barbara Ann Karmanos Cancer Institute in 2001 in memory of his first wife, Barbara Ann Karmanos, who died of breast cancer in 1989.
Community content is available under
CC-BY-SA
unless otherwise noted.