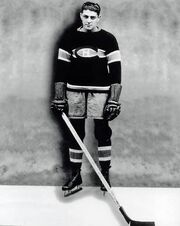 Peter Albert Palangio (September 10, 1908 – December 24, 2004) was a professional ice hockey player who played 70 games in the National Hockey League with the Montreal Canadiens, Detroit Red Wings and Chicago Black Hawks. Born in North Bay, Ontario, he won the Stanley Cup in 1938 with Chicago. He died December 24, 2004 in North Bay, Ontario. He was the last surviving member of Black Hawks 1938 Stanley Cup team.
After a stellar season with the senior North Bay Trappers in 1926-27, Palangio signed as a free agent with the Montreal Canadiens and played 6 games that season. The Canadiens loaned him to the Detroit Cougars the next season, and he played 14 games for the Cougars, scoring 3 goals. A 3 game stint with Montreal in 1928-29 put an end to his NHL career for a time. He spent the next seven seasons in the minor pros.
The Chicago Black Hawks gave him another chance in 1936-37, and he won a Stanley Cup in 1937-38. That marked the end of his NHL career, with 71 games and 13 goals and 10 assists.
He was player-coach of the Tulsa Oilers in 1940-41. Later on he would play for his hometown senior North Bay Black Hawks and retired in 1949. He coached the Hawks in 1951-52.
References