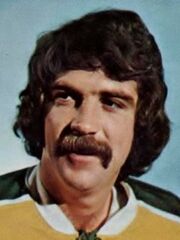 Peter Alfred Laframboise (born January 18, 1950 in Ottawa, Ontario) is a retired Canadian ice hockey player.
Selected by the California Golden Seals 19th overall in the second round of the 1970 NHL Entry Draft, Laframboise also played for the Pittsburgh Penguins and Washington Capitals. He also played for the Edmonton Oilers in the World Hockey Association.
Laframboise spent parts of four seasons in the NHL during the 1970s. He was a versatile player who could perform at centre or left wing but had the misfortune of playing for two of the league's worst teams--the California Golden Seals of the early 1970s and the Washington Capitals in 1974-75.
He was a reliable scorer for three years with the hometown junior Ottawa 67's of the OHA. Apart from a five-game stint with the Seals in 1971-72, Laframboise apprenticed with the AHL's Providence Reds and Baltimore Clippers.
As a rookie in 1972-73, the young forward was one of California's most consistent forwards. He registered 41 points playing on a line with Stan Weir and Reggie Leach and competed hard on every shift. He played a more defensive role the next year then joined the Washington Capitals after being claimed in the 1974 NHL Expansion Draft.
Laframboise was spared playing the entire year with the horrid Caps in 1974-75. In January, he joined the Pittsburgh Penguins in exchange for Ron Jones. After playing the last 35 games of the season and nine playoff matches, Laframboise averaged nearly a point per game for the AHL's Hershey Bears. In 1976-77, he suited up briefly with the WHA's Edmonton Oilers before being relegated to the minors. He retired in 1979 after playing 39 games for the Binghamton Dusters of the AHL.
External links