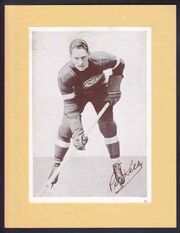 Peter "Pete" Kelly - (born May 22 1913, St Vital Manitoba, CAN – March 22 2004) was a professional right winger who played 7 seasons in the National Hockey League for the St. Louis Eagles, Detroit Red Wings, New York Americans and Brooklyn Americans. He won 2 Stanley Cups in his Career with the Detroit Red Wings in 1936 and 1937.
He started out playing junior and senior hockey with the Montreal Victorias, Montreal AAA, and the Montreal Royals from 1929-33. Then he spent one year (1933-34) with the senior Charlottetown Abegweits.
His first pro year was with the St. Louis Eagles in 1934-35. After the Eagles folded Kelly found himself with the Detroit Red Wings. He played for them for 4 seasons, winning the Stanley Cup in 1936 & 1937.
Through the 1941-42 season Kelly spent most of his time in the minors, with a few games for the New York Americans. After 1942 Kelly spent his entire career with senior teams in the Maritimes until his retirement in 1952.
Awards & Achievements
External Links