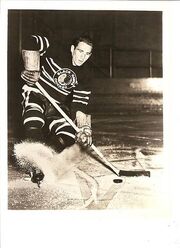 Peter "Pete" Horeck (June 15, 1923 – August 29, 2009) was a Canadian professional ice hockey player. He was born in Massey, Ontario.
"Pistol Pete" Horeck started his National Hockey League career with the Chicago Black Hawks in 1944. He scored 20 goals in both the 1944-45 and 1945-46 seasons. Horeck also played for the Detroit Red Wings and Boston Bruins. He left the NHL after the 1952 season.
In 426 NHL games he scored 106 goals and 118 assists.
After that he played for senior teams in Northern Ontario and for the Charlotte Clippers and Louisville Rebels. He retired from hockey in 1960.
Gallery
[
]
External Links
[
]