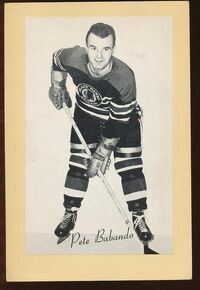 Peter "Pete" Babando (born May 10, 1925 in Lower Burrell, Pennsylvania and raised in Ontario) is a former National Hockey League player who skated for the Boston Bruins, Detroit Red Wings, Chicago Black Hawks, and New York Rangers. During six NHL seasons, Babando scored 86 goals, 73 assists (for 159 points) in 351 regular season games. However, Babando's mark in history was made on April 23, 1950 in Game seven of the Stanley Cup Finals. As a member of the Red Wings, he scored a sudden death (and Cup-clinching goal) to eliminate the Rangers at 8:31 of the second overtime. At the time he was one of the few American-born players in the NHL. Babando scored only three playoff goals in his career.
Babando played junior hockey for the Galt Red Wings of the Ontario Hockey Association in 1943-44 and 1944-45. He was a Boston Bruins prospect and started out in the Bruins system. After two seasons (1947-48 & 1948-49) in Boston in which he led them in goals with 23 in 1947-48, Babando was traded to the Detroit Red Wings in 1949.
He won the Stanley Cup in 1949-50 with the Red Wings and then was traded to the Chicago Black Hawks. He played for them for two and a half seasons and then finished off the 1952-53 season with the New York Rangers.
That was the end of Babando's NHL career. He played four seasons for the Buffalo Bisons (1953-54 to 1956-57), one season with the senior North Bay Trappers, and two seasons with the Whitby Dunlops (1958-59 & 1959-60). He won the Allan Cup in 1958-59.
Babando finished off his career with the Clinton Comets of the Eastern Hockey League from 1960-61 to 1966-67.
He currently lives in South Porcupine, Ontario.
External Links
Edit
Community content is available under
CC-BY-SA
unless otherwise noted.