Honoured Member of the Manitoba Hockey Hall of Fame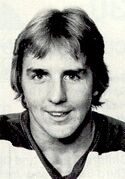 Perry Elvin Miller
Hometown: Winnipeg, Manitoba
Position: Left Wing / Defense

In 1972-73 he signed with the Charlotte Checkers of the EHL and in 1973-74 was a Second All-Star. Signed with the Jets in the summer of 1974 and he was immediately converted from a defenseman to a winger by coach Rudy Pilous. At first, he struggled in his new position, but handled the switch well over the next season and a half before being dealt to the Minnesota Fighting Saints. After the Fighting Saints folded a month later, Miller rejoined the Jets, and coach Bobby Kromm returned him to his natural position on the blue line. The 1976-1977 season was his best as a Jet and he was the Jets' most consistent defender that year. In 1977-78 Miller decided to take up an offer from the NHL's Detroit red Wings, signing a free agent contract on July 8. He took a regular shift on the Red Wings defense, playing in 62 and 75 games over the next two years, respectively. In 1979-80 Miller played 16 games in Detroit with the balance of his year being played in Adirondack. He returned for one more season with Detroit in 1980-81, playing in 64 games and retired as a member of the Adirondack Red Wings after the 1981-82 season. He later worked as a color commentator on the Jets' radio broadcasts. In a game in October 1975, he sustained a serious eye injury as a result of a high stick, prompting Bobby Hull to sit out one game in protest over the increasing level of violence in pro hockey.
On 1 February 1977, Miller scored four times in an 11-1 rout over the Edmonton Oilers and set a WHA record for most goals by a defenseman in one game.
SHL Second All-Star Team (1974)
Set WHA record for most goals by a defenseman in a game (1977)
"Honoured Member" of the Manitoba Hockey Hall of Fame
Community content is available under
CC-BY-SA
unless otherwise noted.