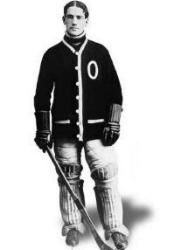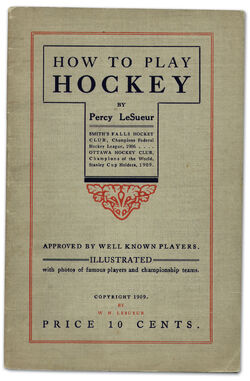 Percy LeSueur (November 18, 1881 – January 27, 1962) was a Canadian professional goaltender who played for the Ottawa Senators and Toronto Ontarios / Shamrocks of the National Hockey Association.
LeSueur was born in Quebec City, Quebec. He was discovered by the Ottawa Senators when they played his Smiths Falls club in the Stanley Cup challenge matches of March 6–8, 1906. Because of his impressive play, Ottawa obtained his rights and he would join the Senators starting on March 17, 1906 as the team's goaltender in a ECAHA playoff match, won by Ottawa 9–3, replacing Billy Hague who had lost in the previous game 9–1.
LeSueur would play for the Senators until the 1914–15 season, winning two further Stanley Cups, in 1909 and 1911. He was traded to the Toronto Ontarios (later Shamrocks) for Fred Lake after his goaltending duties in Ottawa had been taken over by Clint Benedict. He played one season for the Toronto Blueshirts (Shamrocks renamed) finishing his playing career in the 1915–16 season, after which he enlisted in the army.
LeSueur is also known in the hockey world for the design of goal used from 1912 onwards, and the introduction of the 'gauntlet' style goaltending glove. Mr. LeSueur coached the Hamilton Tigers in the NHL in the 1923–24 season. He was also involved in the early seasons of Hockey Night in Canada on radio as part of the 'Hot Stove League'.
He was inducted into the Hockey Hall of Fame in 1961 as a player.