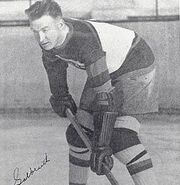 Walter Percival "Perk" Galbraith (December 5, 1898 – June 19, 1961) was a Canadian ice hockey forward. He was born in Toronto, Ontario.
He started out playing senior hockey with the Winnipeg Winnipegs in 1914-15 and the Winnipeg Victorias in 1915-16 and 1916-17. After taking two years off to serve in World War I, Glabraith played for the Winnipeg Monarchs in 1919-20
He then joined the Eveleth Rangers for five years, playing in the United States Amateur Hockey Association (USAHA).
Galbraith started his National Hockey League career with the Boston Bruins in 1926. He also played briefly for the Ottawa Senators in 1933-34 but quickly rejoined the Bruins. He won the Stanley Cup with the Boston Bruins in 1929.
Galbraith played a total of 8 seasons with the Bruins. Including his brief (2 games) stay with the Senators, he played in 347 NHL games, scoring 29 goals and 31 assists.
After 1934, he played 5 seasons in the minor pros and retired in 1939.
Community content is available under
CC-BY-SA
unless otherwise noted.