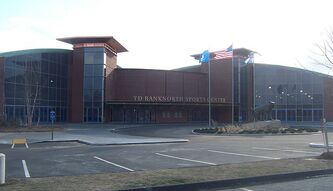 People's United Center formerly the TD Bank Sports Center until 2018, also previously known as the TD Banknorth Sports Center from its opening until it reflected a corporate name change in September 2009, is a multi-purpose arena in Hamden, Connecticut. Its design is unusual in that it consists of two separate playing and seating areas, one intended for basketball and one intended for ice hockey, joined together within a common facility. It seats 3,570 for basketball and 3,386 for hockey.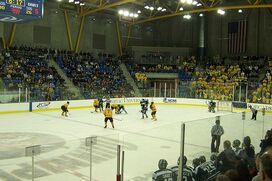 The center opened on January 27, 2007, and is home to the Quinnipiac University men's and women's basketball and men's and women's ice hockey teams. It replaced Burt Kahn Court for the basketball team and the Northford Ice Pavilion for ice hockey. It is located on Quinnipiac's York Hill Campus and is part of a large expansion project for that campus.[1] Shuttle buses transport teams, students, and employees from the main campus to the arena.
The center cost $52 million to build.[1] Its creation is part of an ambitious plan by Quinnipiac to improve its drawing power for student athletes and perhaps move up to bigger league than the Northeast Conference.[1]
It hosted the 2010 Northeast Conference men's basketball tournament finals.
References
External links