The Pensacola Ice Flyers are a professional ice hockey team of the Southern Professional Hockey League. The team played their first season in 2009–10. Home games are played at the Pensacola Bay Center, previously home to the ECHL's Pensacola Ice Pilots from 1996 until their folding in 2008.
The "Ice Flyers" name has a double meaning – it is both a tribute to Pensacola's heritage in naval aviation (Naval Air Station Pensacola is home to the legendary Blue Angels and the National Museum of Naval Aviation) and an homage to original owner Tim Kerr, who previously played eleven seasons with the National Hockey League's Philadelphia Flyers.
On April 14, 2013, the Ice Flyers beat the Huntsville Havoc 2–0 in Game 3 of the President's Cup Finals to win the franchise's first-ever President's Cup.[1] The win also solidified the City of Pensacola's first ever professional sports championship.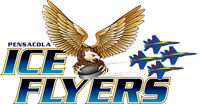 Season-by-season records
| Season | GP | W | L | OL | Pts | GF | GA | PIM | Finish | Playoffs |
| --- | --- | --- | --- | --- | --- | --- | --- | --- | --- | --- |
| 2009–10 | 56 | 25 | 23 | 8 | 58 | 176 | 205 | 968 | 5th of 7, SPHL | Lost Quarterfinals |
| 2010–11 | 56 | 28 | 28 | 0 | 56 | 187 | 195 | 1148 | 5th of 8, SPHL | Lost Quarterfinals |
| 2011–12 | 56 | 30 | 22 | 4 | 64 | 187 | 176 | 873 | 4th of 9, SPHL | Lost Quarterfinals |
| 2012–13 | 56 | 33 | 18 | 5 | 71 | 171 | 149 | 1113 | 3rd of 9, SPHL | Won President's Cup |
| 2013–14 | 56 | 38 | 13 | 5 | 81 | 207 | 139 | 1029 | 1st of 10, SPHL | Won President's Cup |
| 2014–15 | 56 | 32 | 18 | 6 | 70 | 179 | 148 | 857 | 3rd of 8, SPHL | Lost Quarterfinals |
| 2015–16 | 56 | 31 | 20 | 5 | 67 | 175 | 157 | 1098 | 2nd of 9, SPHL | Won President's Cup |
| 2016-17 | 56 | 27 | 21 | 8 | 62 | 171 | 154 | 914 | 7th of 10, SPHL | Lost Quarterfinals |
| 2017-18 | 56 | 33 | 16 | 7 | 73 | 189 | 156 | - | 3rd of 10, SPHL | Lost Quarterfinals |
| 2018-19 | 56 | 26 | 24 | 6 | 58 | 143 | 150 | - | T-7th of 10, SPHL | Lost Quarterfinals |
| 2019-20 | 46 | 23 | 11 | 12 | 58 | 127 | 113 | - | 4th of 10, SPHL | Season cancelled prior to end of season |
| 2020-21 | 42 | 18 | 18 | 6 | 42 | 117 | 120 | - | 3rd of 5, SPHL | Won President's Cup |
| 2021-22 | 56 | 31 | 19 | 6 | 68 | 189 | 164 | - | 6th | Lost Quarterfinals |
See also
References
External links