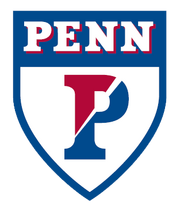 The Penn Quakers are the sports teams of the University of Pennsylvannia in Philadelphia, Pennsylvania.  The team is based out of the Penn Ice Rink at the Class of 1923 Arena which is located on campus.
They are a club-level team playing in the Great Northeast Collegiate Hockey Conference of the American Collegiate Hockey Association (ACHA).
They were an NCAA Division I team from 1965-66 through 1977-78. That team was cut because of budgetary problems.  Hockey dated back to 1898 at the school.
On July 9, 2019 an endowment was announced to elevate both the men's and women's programs to ACHA Men's Division I and ACHA Women's Division I status. The eventual goal,which is about ten years, will be to return the men's program to varsity status and re-establish a women's varsity program.  The men's varsity program was ended after the 1977-78 season.[1][2]
Community content is available under
CC-BY-SA
unless otherwise noted.