The penalty box (sometimes called the sin bin) is the area where a player sits to serve the time of a given penalty, for an offence not severe enough to merit outright expulsion from the contest. Teams are generally not allowed to replace players who have been sent to the penalty box.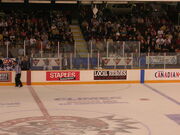 A period in the box occurs for all penalties unless the infraction is a misconduct penalty, which results in an automatic ejection from the game, or has resulted in the awarding of a penalty shot. If three or more players are serving penalties at once, the team will continue playing with three on the ice but will not be allowed to use the players in the box until their penalties expire.
When a team has a player serving a 2-minute penalty, and an overall disadvantage in the number of players on the ice, the opposing team is said to be on a power play. If they score during that time, the time remaining in that particular penalty is discarded and the player may return to the ice if that player has a 2-minute minor penalty. In the case of a double-minor 4-minute, two minutes are subtracted and if the time remaining is not equal or less than zero, the player must remain in the box. No time is subtracted for a goal on a 5-minute major penalty. Goaltenders never go to the penalty box, even though they are assessed penalty minutes, and would either have their penalty time served by proxy, usually being taken by the team captain, or face a penalty shot in the case of a 5-minute major penalty.