3 Manitoba AAA Midget Hockey League Championships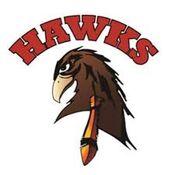 The Pembina Valley Hawks are a Canadian under 18 AAA hockey team from the Pembina Valley region of Manitoba, based out of Morden. They are members of the Manitoba AAA U18 Hockey League (MU18HL) and Hockey Manitoba.
Season-by-Season Record
Note: click on season for player stats or on league for season.
Season
League
GP
W
L
T
OTL
GF
GA
Pts
Finish
Playoffs
2009-10
MMHL
44
34
7
-
3
202
99
71
1st West
Won League

2009-10

TCQ-West
4
1
2
1
-
15
19
-
2nd
Lost Final
2010-11
MMHL
44
10
32
-
2
92
188
22
5th West
Lost Qtr Final
2011-12
MMHL
44
19
22
-
3
125
165
41
3rd West
Lost Qtr Final
2012-13
MMHL
44
28
11
-
5
183
131
61
3rd West
Lost Semi Final
2013-14
MMHL
44
19
20
-
5
133
142
43
7th
Lost Qtr Final
2014-15
MMHL
44
27
14
-
3
166
149
57
5th
Won League

2014-15

TCQ-West
4
2
1
1
-
12
12
-
1st
Lost Final
2015-16
MMHL
44
9
31
-
4
97
198
22
10th
DNQ
2016-17
MMHL
44
28
15
0
1
163
133
57
4th
Lost Qtr Final
2017-18
MMHL
48
23
20
-
5
179
189
51
9th
DNQ
2018-19
MMHL
48
24
18
-
6
164
181
54
7th
Lost Qtr Final
2019-20
MU18HL