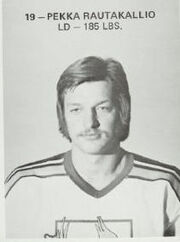 Pekka Rautakallio (b. January 25th 1953 in Pori, Finland) is a former professional ice hockey defenseman.
Rautakallio began his career with the Ässät Pori of the SM-liiga in 1970. He stayed there until 1975, year where he went to North America to wear the World Hockey Association's Phoenix Roadrunners' uniform. He spent two seasons with the Roadrunners, collecting 85 points in 151 games. He would play two more seasons with Pori before returning to North America, this time in the NHL, with the Atlanta Flames/Calgary Flames. In 1982, he went back to Finland to play for the HIFK Helsinki, with whom he ended his career in 1987.
He had a long international career, wearing the Finnish National Team's colours for 1976 and 1981 Canada Cup, as well as the 1972, 1973, 1975, 1977, 1978, 1979 and 1983 World Championships.