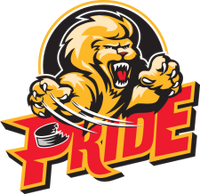 The Pee Dee Pride was a minor-league hockey organization housed in Florence, South Carolina, where they played from 1997 until 2005.
The organization, which is one of the five charter members of the East Coast Hockey League (ECHL), was originally housed in Knoxville, Tennessee and was known as the Knoxville Cherokees.
The Pride played at the Florence Civic Center, which seats 7,426 fans. The name of the organization comes from the region of South Carolina in which Florence is located, known as the "Pee Dee" region. The team's name was changed to the Florence Pride for the 2003-04 season but, reverted back to the Pee Dee Pride after that one season. The team's mascot was Paws the Lion.
The organization never won the Kelly Cup, the ECHL championship trophy. However, the Pride were previous winners of the Palmetto Cup for best team in South Carolina, and the Brabham Cup for best regular season record. In-state rivals of the Pride included the South Carolina Stingrays, the Greenville Grrrowl, and the Columbia Inferno.
Reports have circulated that the owners of the organization will attempt to relocate the team to Myrtle Beach, South Carolina. However, arena construction on the campus of Coastal Carolina University has been stalled, and at the ECHL league meetings in June of 2009, the membership was returned to the league, ending the franchise's lineage.
See Also