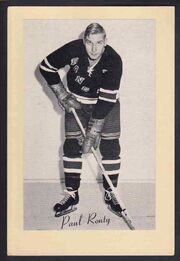 Paul Ronty (born July 12, 1928 in Toronto, Ontario) is a retired Canadian ice hockey centre.
He played for the Boston Bruins, New York Rangers and Montreal Canadiens. He would retire after the 1955 season. Three times during his career, he finished in the top six in league scoring.
Ronty started out in Junior "B" with the Toronto Chewies Aces in 1944-45. THe next season he joined the Boston Olympics.
By 1947, Ronty got his first crack at the Boston Bruins line-up, splitting the season between Boston and Hershey Bears of the AHL. The following two seasons brought him full-time action with the Bruins. While centering wingers Johnny Peirson and Ken Smith, Ronty finished 5th in league scoring in 1948 and 1949, topping the 20-goal plateau on both occasions.
In 1951, he was traded to the New York Rangers where he continued to put up solid numbers as the feed man for Wally Hergesheimer.
But in 1955, Ronty let a comment slip that he was considering retirement. The Rangers management was quick to respond, shipping his rights to the Montreal Canadiens like a package from Federal Express. The Canadiens were in need of a quick fix to fill the gap in the wake of Rocket Richard's suspension for a stick-swinging incident with the Bruins' Hal Laycoe. Ronty played four games for the Habs, but refused to return the following season because a secure contract was not offered in advance.
Ronty played in 488 NHL games, with 101 goals and 211 assists.
External links
Community content is available under
CC-BY-SA
unless otherwise noted.