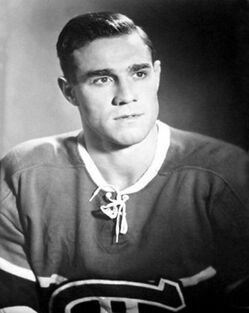 Paul Carl Meger (born February 17, 1929 in Watrous, Saskatchewan) is a retired Canadian ice hockey forward.
Meger played his entire National Hockey League career with the Montreal Canadiens. His career would last from 1950 to 1955. During the 1953 season, he won the Stanley Cup.
Meger was a junior star with the OHA's Barrie Flyers. He scored 26 goals as a rookie pro with the AHL's Buffalo Bisons in 1949-50 then joined the Habs for two post-season contests. That summer, he was named to the AHL second all star team and won the Dudley "Red" Garrett Memorial Award as the league's top rookie. After scoring 34 goals in 46 games for Buffalo the next year, Meger was summoned by Montreal. He played solidly and helped the club reach the Stanley Cup finals. He also earned an AHL first team all-star selection for his outstanding work for Buffalo prior to his recall.
In 1951-52, he scored 24 goals while playing on a line with Billy Reay and Bernie Geoffrion. He dropped to nine goals the next season then played five playoff games as the Canadiens won their first Stanley Cup since 1946. Meger's ice time decreased the next season and he retired after playing only 13 games in 1954-55. His career was ended by a gruesome accident when Leo Labine's skate blade caught him in the temple. Meger suffered a broken skull and tissue damage to his brain that required several operations to mend.