Paul Edward Hoganson (born November 12, 1949 in Toronto, Ontario) is a retired professional ice hockey goaltender who played two games in the National Hockey League and 143 games in the World Hockey Association. He played with the Pittsburgh Penguins, Los Angeles Sharks, Michigan Stags, Baltimore Blades, New England Whalers, Cincinnati Stingers, and Indianapolis Racers.
He played junior hockey with the Hamilton Red Wings, Kitchener Rangers, and the Toronto Marlboros in the Ontario Hockey League. The Pittsburgh Penguins chose him 62nd overall in the 1969 NHL Amateur Draft.
Hoganson turned pro in 1969-70 and spent most of the next four years in the Penguins' farm system, playing 2 games with the Pens in 1970-71.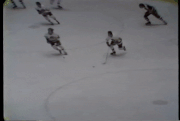 In 1973-74 he jumped to the Los Angeles Sharks of the World Hockey Association (WHA) and spent the next five years with six different teams in that league. The only shutout in Michigan Stags history occurred on December 19, 1974 in a 1-0 victory over the Cleveland Crusaders. In a game marred by multiple brawls, Stags Hoganson out-dueled All-Star goalie Gerry Cheevers and made 32 saves.
He played for the Tucson Rustlers of the Pacific Hockey League in 1978-79 and then retired.
Gallery
References