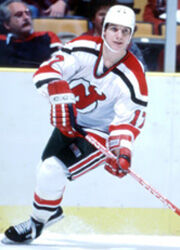 Paul Gagné (born February 6, 1962, in Iroquois Falls, Ontario) is a retired professional ice hockey player who played 390 games in the National Hockey League. He played for the Colorado Rockies, New Jersey Devils, Toronto Maple Leafs and New York Islanders.
He was drafted 1st, 19th overall, by the Colorado Rockies in the 1980 NHL Entry Draft from the junior Windsor Spitfires.
Gagne played two seasons for the Rockies and 4 years with the relocated New Jersey Devils. Despite good numbers by him, the teams were terrible and Gagne never played a single playoff game. He injured his back in 1986 and took two years off, working in the Devils' front office.
He tried a comeback with the Toronto Maple Leafs in 1988-89. But that and a try with the New York Islanders the next season were unsuccesful.
Gagne did play two seasons in Germany and seven in Switzerland before retiring in 1999.
In 390 NHL games he scored 110 goals and 101 assists. He never played an NHL playoff game.
External links