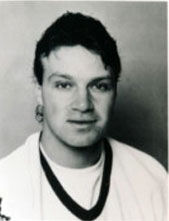 Paul DiPietro (born September 8, 1970 in Sault Ste. Marie, Ontario) is a Canadian-born Swiss professional ice hockey player. He plays forward. He played for the Swiss national ice hockey team at the 2006 Olympics.
Paul DiPietro played in the NHL for the Montreal Canadiens, Los Angeles Kings and Toronto Maple Leafs.
He won a Stanley Cup with the 1993 Canadiens and scored twice in the Cup-clinching game.
On February 18, 2006 he scored the only two goals of the game in Switzerland's upset win over Canada despite having previously played for the Canadian National Team.
He played his rookie year on the Montreal Canadiens in the 1991-1992 NHL Season. The next season he won the Stanley Cup with the Canadiens, scoring 8 goals and 5 assists in 17 playoff games.
DiPietro was traded to the Toronto Maple Leafs in April, 1995 and then joined the Los Angeles Kings in 1996. However, he played mostly in the minor pros these years.
He left for Europe in 1997 and continues to play there. He became a Swiss citizen.
Community content is available under
CC-BY-SA
unless otherwise noted.