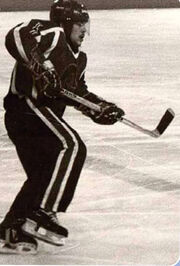 Patrice Lefebvre (born June 28, 1967 in Montreal, Quebec) is a Canadian ice hockey forward who played three games in the National Hockey League for the Washington Capitals during the 1998–99 NHL season. Despite putting up impressive numbers with the Shawinigan Cataractes in the QMJHL he was never drafted by an NHL-team, possibly due to his small stature (Lefebvre is listed as 5 ft 6 in (1,68 m) and 160 lb (73 kg).
The Montreal native scored 187 goals in four junior seasons with the Quebec Major Junior Hockey League (QMJHL)'s Shawinigan Cataractes. He was also a two time selection to the league's first al-star team and made the second team once. He won the Jean Beliveau Trophy as the leading scorer in 1987-88. Lefebvre is still the all-time leading QMJHL scorer with 595 career points.
Undrafted and not under contract to an NHL club, the clever forward played for the Paris Francais Volants in the French Ligue Magnus during the 1988-89 season. He then moved on to Switzerland and Britain and also played in the ECHL and IHL in 1990-91.
After scoring 165 points for the Billingham Bombers in the British league, Lefebvre returned to North America in 1993-94 with the IHL's Las Vegas Thunder. He went on to top the 100-point mark three times and the 20-goal plateau five straight years. In 1997-98 he led the league in scoring with 116 points, was named to the first all-star team and won the James Gatschene Memorial Trophy as the MVP of the "I". The next year he spent time with the Las Vegas Thunder and Long Beach Ice Dogs while also getting an unexpected call to play briefly in the NHL before retiring.
In 2006 he became an Italian citizen by marriage and played for Italy in the 2007 World Championship.
Most Valuable Player (IHL 97/98)
Top Scorer (IHL 97/98)
Top Scorer (QMJHL 87/88)
All Time Best Scorer (QMJHL)
All Time Most Assists(QMJHL)
Most assists Nationalliga B 2006–07
Community content is available under
CC-BY-SA
unless otherwise noted.