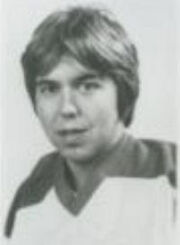 Patrick Michael Riggin (born May 26, 1959 in Kincardine, Ontario) is a retired former NHL goaltender who played for the Atlanta Flames, Calgary Flames, Washington Capitals, Boston Bruins and Pittsburgh Penguins, as well as the Birmingham Bulls of the WHA. He was originally drafted from the London Knights, and was recently selected as the goalie for the London Knights all-time team. His father Dennis Riggin briefly played in the NHL for the Detroit Red Wings, and his brother Larry Riggin also spent time with the Knights organization in the 1970s.
Riggin won the Dave Pinkney Trophy (awarded to the OHL goalie with the lowest goals against) in 1976-77. His father had won the same trophy in 1953-54.
Pat joined the WHA's Birmingham Bulls as an underage player in 1978-79. He was drafted 2nd, 33rd overall, by the Atlanta Flames in the 1979 NHL Entry Draft.
He played with the Flames until 1982 when he was traded to the Washington Capitals. He won the William M. Jennings Trophy and was a second team all-star in 1983-84 with the Capitals.
Pat later played with the Boston Bruins and Pittsburgh Penguins before retiring in 1988.
External links