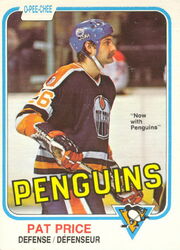 Pat Price (b. March 24, 1955 in Nelson, British Columbia) is a retired former professional ice hockey player who played 726 NHL games over the course of his career.
Price was a highly-touted junior star with the Saskatoon Blades and was drafted number one overall by the Vancouver Blazers of the World Hockey Association, signing for $1.3 million (still today an extravagant sum for an untested rookie). The Washington Capitals, who were picking first overall in the NHL Entry Draft that year, also wanted Price, but picked Greg Joly instead after Price made it clear he was going to the WHA. He played one season in Vancouver and joined the New York Islanders the following year. The Islanders picked him 1st, 11th overall in the 1975 NHL Amateur Draft.
Throughout his solid pro career he also played for the Edmonton Oilers, Pittsburgh Penguins, Quebec Nordiques, New York Rangers and Minnesota North Stars. While he was never a superstar in the league, he was a regular. Price scored 43 goals and 218 assists in his NHL career.
He retired in 1988.
Gallery
[
]