Parry Sound Islanders

City:
Parry Sound, Ontario, Canada
League:
Greater Metro Junior A Hockey League
Founded:
2008
Home Arena:
Bobby Orr Community Centre
Colors:
Black, orange, and teal


    

    

    

Owner(s):
Andy Palfrey; Mike Kolarik
General Manager:
Brandon Contratto
Head Coach:
Ken Thomas (2015-16)
Media:
MCTV
Franchise history
2008-2009:
Ville-Marie Dragons
2009-2011:
Powassan Dragons
2011-2014:
Powassan Eagles
2014-Present:
Parry Sound Islanders
The Parry Sound Islanders are a Canadian Junior ice hockey team based out of Parry Sound, Ontario, Canada. They play in the Greater Metro Junior A Hockey League.
Ville-Marie first attempted to join the Ontario junior hockey ranks in 2007, making offers to both the Greater Metro Junior A Hockey League and the Northern Ontario Junior Hockey League to form an expansion team. The GMHL turned down the offer due to their acceptance of a Temiscaming franchise that would have been compromised with a team in such proximity. The NOJHL looked like they were going to accept the team, but the deal fell through late summer. The NOJHL claimed that the Ville-Marie franchise would probably join them in 2008.
In the summer of 2008, the NOJHL made no mention of their interest in a Ville-Marie franchise, but courted the already established Temiscaming Royals GMHL club. Temiscaming took the bait and the Town of Ville-Marie reapplied for GMHL membership. On June 23, 2008, the GMHL officially announced the expansion of the Ville-Marie Dragons for the 2008-09 season.
Ville-Marie played their first ever game on September 12, 2008 at home against the Nipissing Alouettes. The Alouettes, who were entering their third season in the GMHL, put the boots to the expansion club 17-4. On October 16, 2008, the Dragons won their first game defeating the Oro-Medonte 77's by a score of 4-3 at home.

On January 16, 2009, the Oro-Medonte 77's posted on their website that the upcoming game between the 77's and the Dragons had been cancelled as the Dragons had folded for the season.[1] This marks the first time that a GMHL team has folded mid-season.
On April 8, 2009, it was announced that the team had been moved to Powassan, Ontario.
On September 11, 2009, the Dragons played their first game in Powassan, a 6-3 victory over the Minden Riverkings.
In December 2009, Dragons goalie Martijn Oosterwijk played as the starting goaltender for the Netherlands in the 2010 World Junior Ice Hockey Championships Division II Pool B. He finished with a 4-1 record, leading his team to second place in their tournament and within inches of promotion to Division I.
In May 2011, the team was sold and renamed the Powassan Eagles and is getting ready for 2012/2013 season .[2][3]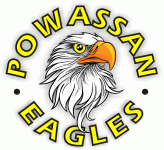 In the Summer of 2014, the Ontario Hockey League's North Bay Battalion elected to place a farm team, the Powassan Voodoos in Powassan. The ownership of the Eagles chose to relocate and moved to Parry Sound.
Season-by-Season Standings
[
edit
|
edit source
]
Season
GP
W
L
T
OTL
GF
GA
P
Results
Playoffs
Ville-Marie Dragons
2008-09
26
2
24
-
0
71
286
4
15th GMHL
Folded
Powassan Dragons
2009-10
42
8
32
-
2
139
271
18
11th GMHL
Lost Qualifier
2010-11
42
15
24
-
3
195
274
33
10th GMHL
Lost Quarter-final
Powassan Eagles
2011-12
Did Not Participate
2012-13
42
25
13
2
2
194
171
54
5th GMHL
Lost Division Semi-final
2013-14
42
14
27
-
1
155
253
29
15th GMHL
Lost Division Quarter-final
Parry Sound Islanders
2014-15
42
16
24
-
2
175
258
34
3rd of 10 Nor Div
14th of 22 GMHL
Lost Div. Semi-final, 0-3 (Huskies)
2010 Lost Last Minute Qualifier
2013 Lost Division Semi-final
2014 Lost Division Quarter-final
Community content is available under
CC-BY-SA
unless otherwise noted.