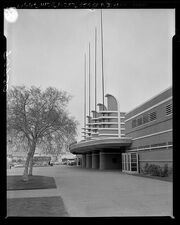 The Pan-Pacific Auditorium was a landmark structure in the Fairfax District of Los Angeles, California which once stood at 7600 West Beverly Boulevard near the site of Gilmore Field, an early Los Angeles baseball venue predating Dodger Stadium. It was located within sight of both CBS Television City on the southeast corner of Beverly and Fairfax Avenue and the Farmers Market on the northeast corner of Third Street and Fairfax. For over 35 years it was the premiere location for indoor public events in Los Angeles. The facility was closed in 1972, beginning 17 years of steady neglect and decay. In 1978 the Pan-Pacific Auditorium was included in the National Register of Historic Places but 11 years later the sprawling wooden structure was destroyed in a spectacular fire.
Architectural icon
Edit
Designed by the Los Angeles architectural firm Wurdeman and Becket, which later designed the Los Angeles Music Center and the space-age "Theme Building" at Los Angeles International Airport, the Pan-Pacific Auditorium opened to a fanfare of [Boy Scout bugles on May 18, 1935 for a 16-day model home exhibition. Noted as one of the finest examples of Streamline Moderne architecturein the United States, the green and white facade faced west, was 228 feet (69 m) long and had four stylized towers and flagpoles meant to evoke upswept aircraft fins. Industrial designer Norman Bel Geddes was reported to have been a consultant on the building's design in 1934. The widely known and much photographed facade belied a modest rectilinear wooden structure resembling an overgrown gymnasium inside and out. The auditorium sprawled across 100,000 square feet (9,000 m²) and had seating for up to 6,000.

It was the home of the Los Angeles Monarchs of the Pacific Coast Hockey League.
Decay and fire
Edit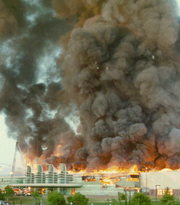 There were hopes throughout the surrounding Fairfax District towards refurbishing the Pan-Pacific, possibly as an ice rink or cultural center and the parking lot soon became a park. However, the building was neglected for many years and damaged by small fires accidentally started by transients.

The auditorium continued to deteriorate throughout the 1980s, mostly owing to a lack of security. A large loading door on the southeast corner was often forced open, allowing free access to anyone. A fire in May 1983 damaged the northern end. On the evening of May 24, 1989 (six days after the 54th anniversary of its opening), the Pan-Pacific Auditorium was destroyed by a spectacular fire, the smoke from which was visible throughout the Los Angeles basin. The site is now Pan-Pacific Park and has a scaled-down replica of one of the famous towers.
External links
Edit
Community content is available under
CC-BY-SA
unless otherwise noted.