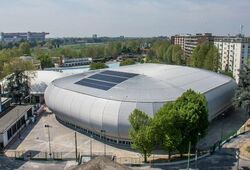 The Allianz Cloud previously known as Palazzetto Lido Sport, commonly known as PalaLido, is a multi-purpose indoor arena that is located in Milan, Lombardy, Italy. The arena's primary use is to host basketball and volleyball games, but it can also be used to host handball, tennis, gymnastics, and wrestling. The arena currently has a seating capacity of 5,420 for sports events. It will host ice sledge hockey in the 2026 Winter Paralympics.
History
PalaLido originally opened in 1961.[1] In 2005, the arena's seating capacity was increased from 3,500 to 3,800. In 2011, a rebuild of the arena began. Finally, in 2016, the arena was rebuilt, with a new seating capacity of 5,420.
2026 Winter Olympics
It is one of two venues to be used for ice hockey, along with PalaItalia Santa Giulia.
Olympic venues in ice hockey
1920: Palais de Glace d'Anvers - 1924: Stade Olympique de Chamonix - 1928: St. Moritz Olympic Ice Rink - 1932: Olympic Arena (final), Olympic Stadium - 1936: Olympia-Kunsteisstadion (final), Riessersee - 1948: Kulm, Olympic Stadium (final), Suvretta - 1952: Dæhlenenga, Jordal Amfi (final), Kadettangen, Lillestrøm stadion, Marienlyst stadion - 1956: Apollonio Stadium, Stadio Olimpico Del Ghiaccio - 1960: Blyth Arena (final), Squaw Valley Olympic Skating Rink - 1964: Messehalle, Olympiahalle - 1968: La Patinoire Municipale, Le Stade de Glace - 1972: Makomanai Ice Arena (final), Tsukisamu Indoor Skating Rink - 1976: Messehalle, Olympiahalle (final) - 1980: Olympic Center - 1984: Skenderija II Hall, Zetra Ice Hall (final) - 1988: Father David Bauer Olympic Arena, Olympic Saddledome (final), Stampede Corral - 1992: Méribel Ice Palace - 1994: Gjøvik Olympic Cavern Hall, Håkon Hall (final) - 1998: Aqua Wing, Big Hat (final) - 2002: E Center (final), Peaks Ice Arena - 2006: Palasport Olimpico (final), Torino Esposizioni - 2010: Rogers Arena (final), UBC Thunderbird Arena - 2014: Bolshoy Ice Dome (final), Shayba Arena - 2018: Gangneung Hockey Centre (final), Kwandong Hockey Centre - 2022: Wukesong Sports Center (final), Beijing National Indoor Stadium - 2026: PalaItalia Santa Giulia (final), PalaLido
NOTE: During the Olympic Games, venues that have naming rights sold may not use their name during the Olympic Games.
References